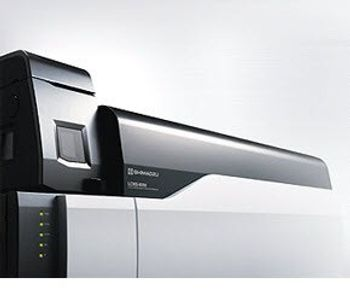 Shimadzu Scientific Instruments
has introduced the
LCMS-8050
triple quadrupole mass spectrometer, which incorporates the highest sensitivity and quality analysis of its class with ultra-fast data acquisition. The instrument can perform both positive and negative ion analysis in a single run for faster throughput.
The LCMS-8050 achieves high sensitivity through a patented ion optics system, a newly designed heated ESI probe and UFsweeper III Collision Cell, which yields greater efficiency and suppresses crosstalk.
The latest product in the Shimadzu Ultra Fast Mass Spectrometer series, the LCMS-8050 offers multiple reaction monitoring (MRM) speeds of 555 ch/sec and maintains spectrum quality, sensitivity and accuracy at scan speeds up to 30,000 μ/sec. The Synchronized Survey Scan (SSS) function allows users to obtain MRM data while simultaneously performing qualitative MS/MS scans. The LCMS-8050 provides 5-millisecond polarity switching and is the only instrument of its kind to maintain ion intensity during polarity switching at high speeds. The product offers simultaneous quantitative and qualitative analysis of multiple components.
The instrument is designed for durability and easy operation and maintenance to reduce downtime. The newly designed ion source features a cable-free, tubeless housing for convenience when switching from ESI to APCI or dual ionization mode. The desolvation capillary can be replaced without breaking vacuum, and probe maintenance is quick thanks to easily accessible consumable components. Users can remove and clean the ion guides without tools or extensive disassembly.
LabSolutions LCMS workstation software provides intuitive control of the LCMS-8050 and Shimadzu HPLC/UHPLC systems from a single user interface. The software allows the creation of quantitation methods for multi-component analysis, enabling anyone to perform quantitative analyses with ease. In addition, the software is equipped with a powerful data browser and an automated MRM optimization routine. Numerous options, including application-specific method packages and open-access quantitative analysis software, are available to address specific customer requirements.