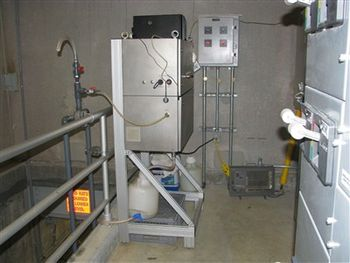 Aurora Water (Aurora, Colorado, USA), an award-winning water treatment organization that serves 335,000 customers, is using an on-line
Zetasizer Nano
from
Malvern Instruments
(Malvern, UK) to reduce coagulant usage and simplify operations while maintaining exceptional quality standards. Through automated, frequent measurements of zeta potential, the on-line system enables continuous monitoring of the coagulation processes used in the treatment of the water, and is providing new real-time insight into how to optimize treatment. Recent gains include a 17% reduction in treatment coagulant dosage and a simplification of plant operating strategy to reduce energy consumption.
"We've used a lab-based Zetasizer Nano for some time now to improve and fine-tune our coagulation processes," said Kirk Watson, Treatment Plant Supervisor. "We find zeta potential data a reliable basis for decision-making, more so than traditional alternatives, so the opportunity for on-line measurement is a positive one. The big plus of an on-line instrument is real-time monitoring, the value of which was really brought home to us during a recent treatment event. The on-line data we collected during the event gave us new insight into a modified operating scheme that we're now capitalizing on."
Zeta potential quantifies the electrostatic or charge repulsion or attraction between particles and is therefore closely linked with suspension stability. A substantial and growing body of research suggests that in water treatment facilities zeta potential measurements can provide a secure basis for coagulation control, allowing operators to fine-tune chemical addition to achieve timely and efficient organic matter removal. The ability to measure zeta potential on-line opens up a route to continuous monitoring and, potentially, automated dosing.
At Aurora Water the on-line Zetasizer Nano has been operating for over a year and is valued as an operational and troubleshooting tool. In a recent process event its measurements allowed the operating team to pick up a possible discrepancy between recorded and actual water flow that appeared to be prompting an over-dosage of chemicals. However, it was determined, through use of the online Zetasizer Nano and the data that it provided, that a rapid mixer within the plant was having a negative effect on coagulant performance. The mixer has since been switched off which has resulted in lower coagulant dosing, and research has confirmed that slower charge neutralization in this part of the process may be beneficial. The speed and efficiency with which these changes have been made is attributed to the availability of real-time measurements and the gains are substantial.
"Aurora Water has systematically targeted the very highest levels of performance over a number of years, and we're proud to have attained the Phase IV Excellence In Water Treatment, rating [the highest available] from the Partnership for Safe Water. There is always room for further improvement, and the on-line zeta potential measurement is helping us to achieve a more cost-efficient water facility, and be more proactive in our treatment. This technology is still in its infancy for the water industry but it certainly shows promise."