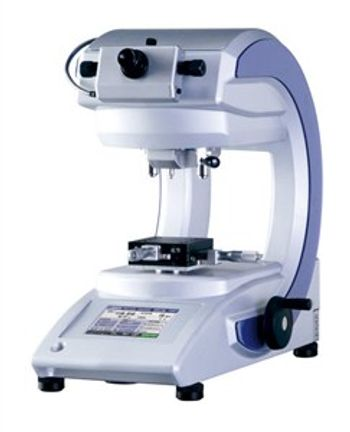 Operator error continues to be a concern in quality control testing where reliable measurements are essential.
Shimadzu
's new
HMV-G Series
of Micro Vickers hardness testers provides an operator-friendly, cost-effective solution with automatic length measurement, which is quickly becoming the new standard in the research and development of new materials.
Equipped with a CCD camera for automatic length measurement, HMV-G testers provide simple, secure analysis with a minimum risk of human error. Their new G-frame design expands the workspace, dramatically improving operability while permitting effective measurement of long and large test samples. Additionally, the camera's automatic lens switching function adjusts the lens to suit the size of the indentation. Even users with no experience can measure samples of unknown hardness easily and reliably.
The camera is accompanied by easy-to-use software that controls the sequence of primary operations, including setting conditions and displaying results. One single test window shows all information necessary at a glance, making image quality adjustments easy. With the routine inspection graphs function, data can also be viewed in chronological order, so it can be used effectively for ISO17025 and ISO16949 certification.
Other features of the HMV-G Series include:
Electromagnetic Force Control: Indentation test force can be configured seamlessly
Measurement Mode Settings: Users can select standard or sequential tests
Ultra Long-Life Illumination: Standard LED is energy efficient with long life for reduced replacement maintenance
Low Test Force (Optional): Tests can be performed at arbitrary test forces in the range of 1 gf to 2 kgf