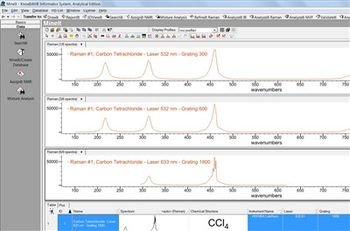 Bio-Rad Laboratories, Inc. (NYSE: BIO and BIOb), a multinational manufacturer and distributor of life science research and clinical diagnostic products, announced the release of KnowItAll® Informatics System 2013 spectroscopy software.

Bio?Rad's KnowItAll software offers comprehensive solutions for spectral analysis, identification, search, data management, and reporting. It supports multiple instrument vendor file formats and techniques (IR, Raman, NIR, NMR, MS, UV-Vis). The software, combined with one of the world's largest spectral reference collections (over 1.4 million spectra), helps chemists extract even greater knowledge from their spectral data.

KnowItAll Informatics System 2013 Key Benefits Include:
Additions to ATR-IR, IR, Raman, NMR, and MS reference spectral collections.
Enhanced Raman spectrum management
Performance optimizations and workflow simplifications
Advanced GC-MS database building and linking capabilities
Support for multiple spectra of the same technique within a single database record
"We are pleased to introduce this latest edition of our KnowItAll Informatics System 2013 software and believe our infrared and Raman customers in particular will be thrilled with the enhancements featured in this new version," said Gregory M. Banik, Ph.D., General Manager, Bio?Rad Informatics. "KnowItAll 2013, combined with Bio?Rad's comprehensive collection of high-quality spectral reference data, provide our users with enhanced value when performing spectral analysis."