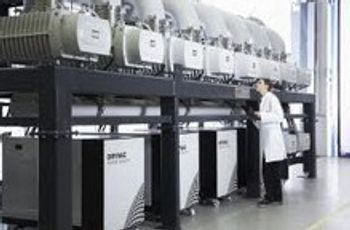 Oerlikon Leybold Vacuum offers flexible solutions for demanding heat-treatment and metallurgy processes

Oerlikon Leybold Vacuum won several orders globally for vacuum systems out of the metal treatment field, optimized for customer specific needs. Advantage of these vacuum solutions is the high flexibility due to the use of standard vacuum pumps in a versatile skid. "These orders show the expertise of Oerlikon Leybold Vacuum as the vacuum systems are considered efficient and sustainable by the market. It also demonstrates the company's successful entry into the strategically important growth market metallurgy on a worldwide basis," said Dr. Martin Füllenbach, CEO of Oerlikon Leybold Vacuum.

Supplying Vacuum to One of the World's Largest Furnaces
The furnace builder Seco/Warwick has received an order for a vacuum furnace with working dimensions of 18 feet in diameter and 39 feet high, which makes it to one of the world?s largest vacuum furnaces for heat treatment ever. The furnace will heat treat coils designated for building of the new thermonuclear reactor ITER under construction in France. The furnace is capable of heating a 125 ton coil up to 1200° F while maintaining process purity within the range of a single ppm. In order to secure such a perfect degree of purity, nearly the entire furnace will be manufactured of stainless steel. One of the crucial factors is ensuring continuous multi-day operation of the furnace. The vacuum system is therefore immensely important to maintain process conditions.

Oerlikon Leybold Vacuum USA Wins Major Steel Degassing Order
Oerlikon Leybold Vacuum received an order for vacuum pumping systems from a Pittsburgh based OEM specializing in vacuum degassing of steel. The 100 ton VD (Vacuum Degassing) Furnace will be installed in Pennsylvania. The six-digit order comprises three pump system modules consisting of staged WH RUVAC® series vacuum boosters and DRYVAC® dry-compression vacuum pumps. Each module features 9 RUVAC WH7000 and 2 DRYVAC DV1200 (7-2-2 arrangement). The total installation achieves a total nominal pumping capacity of 205,800 m3/h. During the VD process the system will degas molten steel for the effective removal of hydrogen, oxygen and carbon to specific requirements

Oerlikon Leybold Vacuum USA Supports Steel and Special Metal Refining Processes
Oerlikon Leybold Vacuum received an order for vacuum boosters and oil-vapor boosters in support of VIM and VAR type furnaces from a New Jersey based OEM specializing in advanced vacuum and controlled atmosphere furnaces for the processing of metals, specialty alloys, and engineered materials. Both the VIM and VAR furnaces will be installed in China and will utilize WH RUVAC® series vacuum boosters while the VIM furnace is also supported by the Oerlikon Leybold Vacuum OB18000 model Oil-Vapor Booster Pump. The order comprises eight vacuum boosters and three oil-vapor boosters.

Oerlikon Leybold Vacuum receives 2nd VD order from India
The vacuum systems of Oerlikon Leybold Vacuum prove their added value in the field. The successful start-up of the first Leybold mechanical vacuum system in India at JAILAXMI Steel has triggered an order at another Indian customer. This time Oerlikon Leybold Vacuum will deliver a vacuum system for a 35t VD steel degassing system. This system features 10 RUVAC WH7000 and 4 DRYVAC DV1200 (8-2-4 arrangement). Next to the hardware, Leybold will deliver a fully automatic control system.