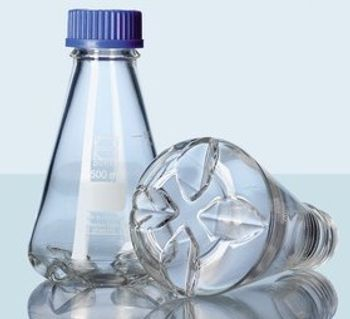 Offering 250 mL, 500 mL, and 1 L sizes with or without DURAN GL 45 Membrane Thread

SCHOTT North America, Inc. announced the availability of the DURAN® Erlenmeyer Baffled-bottom flasks for suspension culture, including cell biology, microbiology, and molecular biology applications.

Ideal for use on shaker equipment for culturing bacterial, yeast, animal, and plant cells, as well as for storage. The molded four baffles on the bottom of the flask provide increased agitation at lower speeds for a gentle aeration for sensitive cell cultures. At higher shaker speeds, the baffles increase aeration for better growth, especially with bacteria.

Fully automated manufacturing ensures the baffles are geometrically identical which results in highly reproducible growth rates between flasks. The increased wall thickness provides excellent mechanical strength, and guarantees a longer product service life. The flasks can be sealed with the proven membrane caps, enabling reproducible gas exchange in contrast with other closure options, such as sealing with cotton wadding or similar.

DURAN® 3.3 borosilicate glass offers purity, biocompatibility and a wider range of temperature use and chemical resistance, plus a preferred leachable and extractable profile. Flasks feature excellent optical clarity and are a re-usable alternative to plastic flasks, both flask and membrane cap are re-usable and autoclavable.

The DURAN® baffled flasks have a retrace code. Enter the product code along with the corresponding article number at www.us.schott.com/labware, to easily download the batch certificate.