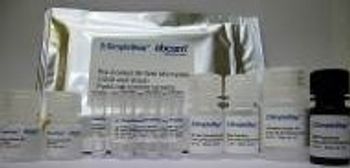 Kits offer enhanced performance and ease of use to accelerate immunoassay research

Abcam plc., a producer and distributor of high quality protein research tools, announced today that it has launched a range of SimpleStep™ ELISA kits. The new kits have a greatly simplified protocol when compared to standard multi-step ELISAs, providing significant time savings and ease of use.

Offering enhanced performance, SimpleStep ELISA kits are single wash, colorimetric sandwich ELISAs which retain the familiar process and data outputs of a traditional ELISA kit. The kits require no specialized training or instrumentation and in contrast to standard ELISA achieve increased accuracy due to reduced sample handling steps. Additionally, a more efficient in-solution binding process provides superior sensitivity and specificity.

The SimpleStep kits are ideal for studying intra- or extra- cellular signaling pathways or for cancer biomarker research. Numerous new kits are being added to the already extensive range each month. The kits are available in convenient off-the-shelf 1, 2, or 4 target conformation. Custom multi-target kits are also available, allowing customers to select analyte combinations specific to their research.

James Murray, General Manager, Abcam Eugene, commented: "Abcam is continually in touch with researchers to anticipate the latest research trends and developments, so that we can continue to meet their needs worldwide. We're excited to see how SimpleStep ELISA kits will help to increase the pace of scientific discoveries."

Developed and manufactured at Abcam's laboratories, SimpleStep ELISAs have been extensively validated for specificity and sensitivity in a broad range of sample types and are accompanied by information-rich datasheets and expert scientific support. Addition of these kits enhances Abcam's already extensive immunoassay portfolio consisting of 1,600 products for the detection of over 600 targets.

SimpleStep ELISA kits are available globally and can be purchased directly through the Abcam website or through one of Abcam's authorized distributors.