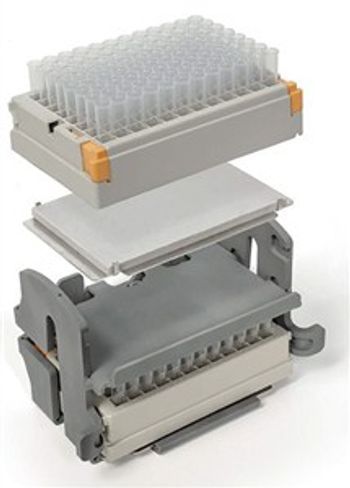 Genevac
's new generation heat transfer plates for centrifugal evaporators enable almost any deep well plate to be dried up to 50% faster than previously possible.
Evaporation from microplates, especially deep well plates, can be extremely slow. The design of deep well plates makes it particularly difficult for an evaporator system to transfer enough heat for rapid drying, especially with higher boiling point solvents such as water or DMSO. In addition, often the wells in deep-well plates are supported above the level of the skirt and need support to prevent the plate from deforming in a centrifugal evaporator.
The new Genevac heat transfer plate design has a central flexible pad that deforms and moulds itself to the exact shape of your deep well plate. This intimate contact achieves the same level of heat transfer as from specially cut aluminium heat transfer plates but at a much lower cost. In addition the novel flexible heat transfer pad is proven to eliminate plate deformation.
Quick and easy deep well plate drying is now a reality with the fast stack microplate swing accessory and new flexible heat transfer plates