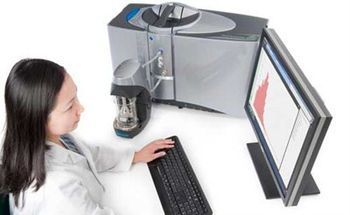 Malvern Instruments
is marking the second anniversary of the market leading
Mastersizer 3000
laser diffraction particle sizing system with the introduction of a host of innovative software updates and an extension to the Mastersizer family, the
Mastersizer 3000E
.
A global leader for particle sizing, Malvern's Mastersizer range has become synonymous with laser diffraction. The Mastersizer 3000 delivers unique performance and productivity benefits, wrapped in a stylish, compact and practical instrument design. New software features, developed in response to customer feedback, now make it easier than ever to obtain accurate particle size information. They also deliver an interface experience that chimes with the app-led approach now common in so many areas of life. Mastersizer software is now available in eight languages to ensure full accessability for users around the world.
Paul Kippax, Product Group Manager at Malvern, is a passionate believer in acting upon customer feedback and says it continues to drive the further development of the Mastersizer 3000.
"At launch we were confident we had a world-beating particle size analyzer. The continuous software developments since its introduction are succeeding in lightening the analytical workload even further," said Dr Kippax. "One of the functions I am most pleased with, because it makes a huge difference to so many of our users, is the new mimic mode for method transfer. This makes it easy to replicate the analysis range of other systems - not just from Malvern but also from other manufacturers. We've also introduced a standard operating procedure play list allows samples to be measured in different states of dispersion as part of an automated measurement, for example as part of method development. All these features, as well as the new tools for notifying maintenance requirements and for providing service support, help to promote and safeguard productivity over the lifetime of the instrument."
With a dynamic range spanning 0.01 to 3500 microns, the Mastersizer 3000 delivers precise, robust wet and dry particle size measurements tailored to the operator's specific application needs. A small footprint, exceptional dry dispersion capabilities and software that continues to push the boundaries of user/instrument interface development, have propelled the system to its market leading position.
In extending the Mastersizer family, Malvern has now added the new Mastersizer 3000E, an entry level laser diffraction particle sizing system for those who aspire to all that a Mastersizer has to offer. With a measurement range of 0.1 to 1000 microns, the system is offered with semi-automated wet dispersion units. Its performance can be extended over time, with add-on software packages providing Mastersizer 3000E users with access to automated dispersion units and the advanced analysis and method development support capabilities of the Mastersizer 3000.
For a demonstration of the new capabilities of the Mastersizer 3000, and an introduction to the Mastersizer 3000E, register for the dedicated webinar, which will take place on 25 September 2013 www.malvern.com/mastersizerevent