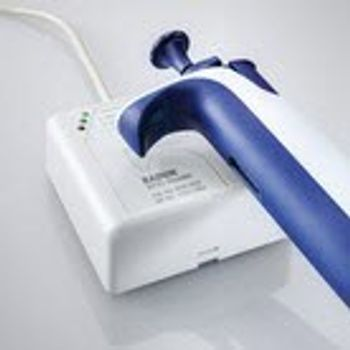 To support the pipette management efforts of researchers working in the pharmaceutical and chemical industries worldwide, METTLER TOLEDO has embedded RFID tags in all of its premium Rainin air displacement pipettes - including its recently-released E4 XLS electronic model. This addition helps labs establish advanced calibration schedules through heightened pipette tracking capabilities for significant time savings and lowered lab management costs.
Regularly-scheduled calibration is a key component of pipetting reliability. By combining Rainin pipettes with Rainin's RFID reader and LabXTM Direct Pipette-ScanTM software, users can immediately determine an individual pipette's complete profile including: serial number, manufacture date, calibration-due date and any user-assigned attributes. This helps a user understand the status of the pipette and determine if calibration is needed to ensure its accuracy almost immediately. Context-sensitive help in 15 languages ensures that users worldwide can access the advantages of RFID-enabled pipettes. Fast data recall reduces the occurrence of costly performance issues.
User-defined attributes are housed in 12 customizable data fields contained on the pipette's RFID tag. These fields, as well as ongoing calibration and performance data, can be exported to MicrosoftWord® and Excel® or used as a text file, allowing custom report creation or LabX data integration into other asset management applications.
Rainin pipettes that offer RFID technology include manual, electronic, single-channel, multi-channel and adjustable-spacer models to encompass all of a lab's most intricate and complex pipetting needs. For more on how Rainin RFID-enabled pipettes can help increase lab accuracy and decrease costs, visit www.mt.com/Rainin-RFID.