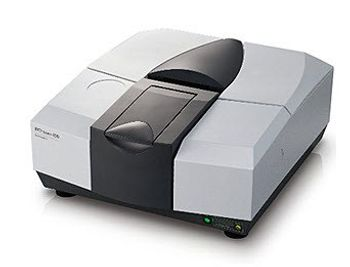 Answering the need for increased speed and accuracy in infrared analysis, Shimadzu Scientific Instruments Inc. has introduced the IRTracer-100 Fourier Transform Infrared (FTIR) spectrophotometer. Combining high speed, sensitivity and resolution with enhanced expandability and easy-to-use software, the IRTracer-100 quickly and easily obtains high-quality data for samples in such fields as pharmaceuticals, foods, chemicals and electronics.
The IRTracer-100 offers best-in-class 60,000:1 S/N ratio, which allows researchers to quickly and easily obtain high-quality data of ultra-small contaminants. Resolution of 0.25 cm-1 provides for highly accurate quantitation and identification. In addition, a rapid scan function allows rapid sample acquisitions of 20 spectra per second. This enables analysis of reactions occurring within a few seconds, and kinetic studies occurring in less than one second.
The IRTracer-100 features a stable, airtight interferometer that incorporates a built-in automatic dehumidifier, protecting the unit against moisture and other environmental influences. In addition, the patented Advanced Dynamic Alignment system, sampling at over 5,000 times per second, works in combination with a smooth-moving mirror to ensure optimum performance, enhanced stability and shorter warm-up times.
Self-diagnostics and monitoring technology allow for quick, easy instrument management. The IRTracer's validation program enables easy verification of the instrument's performance. This program complies with U.S., European, Japanese and Chinese pharmacopeias, and with ASTM specifications.
Optimized for network applications, new LabSolutions IR Series software offers intuitive operation, high-level administrative functions, secure data management, and a variety of data manipulation functions. It includes an extensive library of nearly 12,000 spectra as well as a high-performance search function for easier identification of unknown samples. A unique Print Template function allows easy creation and printing of custom reports. In addition, the "Easy Macro" program allows users to effortlessly create macros for routine tasks. This improves productivity and allows even novice FTIR users to easily operate the IRTracer-100.
The IRTracer-100 can be customized with a variety of software and hardware options to meet specific application requirements. These include contaminant analysis and identification test programs, time-course analysis and 3-D mapping software, an infrared microscope, near/far IR kits, and a variety of ATR accessories.