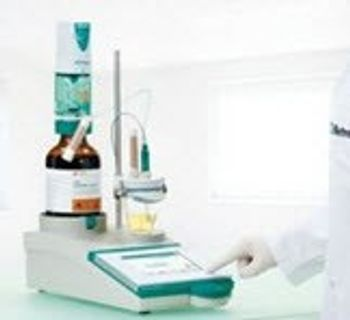 In many research and commercial processes, a scientist measures a sample's concentration of something, from the oxygen concentration in water to the vitamin C in food. Making those measurements requires titration.

Controls make up some of the most obvious advances in titrators. "The technology is keeping up with others in terms of interfaces," says Mari Lynne Gentry, product manager for instruments at METTLER TOLEDO (Columbus, OH). That includes the use of software apps and a touchscreen in many cases.

The broad application of titrations drives a similar expanse of available products. For example, the new EasyPlus line from METTLER TOLEDO includes a range of versions. One measures pH, another measures chloride, and one works with redox reactions. METTLER TOLEDO also offers a version that will do all three tests, one at a time.
Enhancing automation

Every chemist, or even chemistry student, once performed titrations manually. For instance, Gentry says, "Universities often teach the manual process, and some small wineries use it too."

Nonetheless, more users now look for automatic options. "There's an evolution in customers moving to automatic titrators as a more efficient and effective way of getting reproducible and accurate results," says David Minsk, president at Hanna Instruments (Smithfield, RI). For example, Hanna Instruments devised a "Linked Method" feature in its software that allows the titrator to automatically conduct one titration and then another on a sequential basis. In addition to software, manufacturers can optimize the delivery system. The Hanna Instruments HI 902 series, for instance, comes with a 40,000-step pump with the capability of dispensing as low as one microliter of titrant per addition. "Capabilities such as these provide greater resolution, accuracy, and reproducibility," Minsk says.

Another advantage to automation is data logging and calibration verification. Most automatic titrators have userfriendly options such as a USB interface that allows customers to easily save and log results. In addition, many customers run multiple shifts and are subject to audits by various regulatory agencies. "It is important to have a system that can log the last calibration performed on the instrument," Minsk says.
Maintaining accuracy

Keeping an instrument accurate over time requires maintenance. "Because of that," says Minsk, "we've put more resources into supporting our titrators after purchase with method development, retraining personnel, and calibration services."

Particular applications bring unique accuracy challenges. For example, Piper Klemm, PhD, CEO of the scientific consulting firm Klemm Hill (Canton, NY), says that she has "used potentiometric titrators to determine thermodynamic stability constants for metalligand complexes." She adds, "One of the features that I was most concerned about was presence of CO2, which could alter the recorded stability dramatically." Although she says that CO2 of 0.5 percent or less was no problem, "several titrator systems did not have a mechanism to prevent CO2 levels from reaching 5 to 6 percent." So such measurements require extra care.

Even automated aspects of titration can require particular care. As an example, METTLER TOLEDO's titrators can be programmed to require a burette rinse before starting a new titration.

With the proper care, a titrator might last 10 to 15 years. "The average life span, though, is about six years," Gentry says. As new systems deliver more accuracy and automation, however, users might upgrade just to get new features. That can make life easier in academic and industrial settings.
Article courtesy of LabManager Magazine.
Check out our Titrator Category on LabWrench.