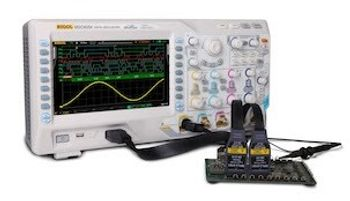 Rigol Technologies, Inc. introduces the MSO4000 Series mixed signal oscilloscope, another game-changing new product in the Rigol scope family. With 16 digital and up to 4 analog channels at bandwidths ranging from 100-500 MHz, the MSO4000's mixed signal capabilities allow users to tackle more extensive signal analysis and digital decoding for testing and debugging of a wider range of analog/digital signals.

As the latest Rigol oscilloscope, the new MSO4000 series is easy-to-use and provides superior functionality at a highly competitive cost. Featuring 28Mpts memory depth in each digital channel and 140Mpts in analog channels, the MSO4000 series delivers fast sample rates of 1 GSa/s digital and 4 GSa/s analog, and has a high digital waveform capture rate of up to 85,000 wfms/s.

Rigol's innovative UltraVision technology allows for real time waveform recording, replay and analysis of up to 200,000 frames (64,000 frames with digital), as well as a low noise floor with minimum analog vertical sensitivity measuring 1mV/div. MSO4000 series supports serial bus triggers (standard) and decoding (optional) for both analog and digital channels. The new RPL2316 Logic Probe Adaptor makes high speed digital measurements easy and convenient with support for multiple logic levels and a high quality, flexible interface.

The MSO4000 series also offers intuitive front panel controls and a 9" WVGA screen that features a 256-level intensity grading display, plus multiple trigger functions and several connectivity choices, including LAN (LXI-C), VGA, AUX, USB Host & Device, and USB-GPIB (optional).

Prices for the MSO4000 series start at $3,217. Some models may have up to a several week lead-time. Please contact Rigol for additional information.