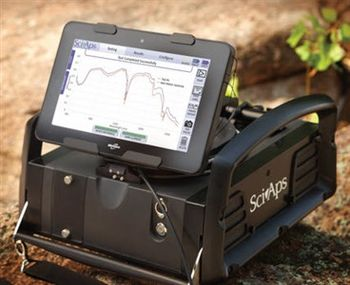 SciAps, a Woburn, MA based portable analytical instrumentation company, is pleased to introduce the Navigator. The Navigator is a portable, wide spectral range absorption spectrometer operating from the ultraviolet (UV) through the near infra-red (NIR) wavelengths: 350 nm to 2,500 nm. It is initially intended for the geochemical market to provide in-field, real time mineral analysis for exploration applications. NIR absorption is a particularly powerful technique for clay mineralogy.

The Navigator offers several advantages over other portable NIR analyzers. It is Tablet-driven, allowing for results to be instantly viewed on the analyzer. It features a leading mineral analysis program – The Spectral Geologist (TSG) running on the Tablet, allowing results to be determined in the field, rather than batched up for later analysis. The Tablet is securely mounted to the analyzer, easily stored with it, and quickly detached to allow for off-line data analysis during travel or storage.

The Tablet-powered Navigator offers global connectivity via wireless or mobile broadband options, critical features given the wide geographic demands for mineral identification. For quality control applications the connectivity allows for results taken from global supply chains to be immediately uploaded and centralized. For material analysis applications outside of TSG, the Navigator's library can be customized and common method generation algorithms used such as PCA/PLS. The methods generation can either be on-board SciAps software provided with the Navigator, or via common 3rd party chemometrics products.

The Navigator was also conceived for field use. It is designed to IP 54 standards, has built in shock resistance, is easily carried via a shoulder strap, and operates up to 6 hours on batteries. Batteries may be hot-swapped for uninterrupted testing. The analyzer automatically collects standardization measurements (dark current and white reference) when not taking a measurement.