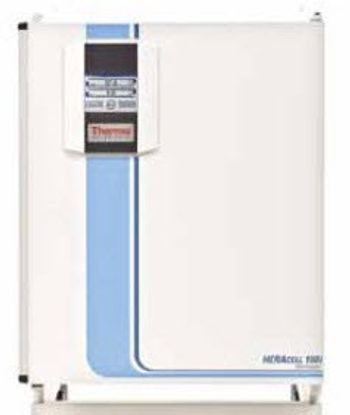 Reliability, consistency, and new features main reasons to go shopping
As the heart of the lab and its workflow, CO2 incubators can make or break the facility's overall productivity.

Douglas Wernerspach, business manager of CO2 and constant temperature at Thermo Fisher Scientific (Waltham, MA), says researchers depend on CO2 incubators to be reliable and provide uniform conditions for cells.

"If you don't have a viable quantity of cells, it's very difficult to proceed very much further from there with your experimentation, so the performance of the CO2 incubator is important," he says.

Once the unit can no longer provide that consistency and reliability, is having frequent contamination issues, or the system is becoming more costly and difficult to maintain, it could be time to buy new. Changing application needs could also necessitate an upgrade, vendors say.

Thermo Scientific's Heracell 150i cell culture incubator is available with non-corrosive stainless steel or copper interiors. Amy Schulties, marketing director at Shel Lab (Cornelius, OR), says the latest incubators offer perks such as better accuracy in CO2 monitoring, copper shelving, and fewer components for less maintenance while Wernerspach adds that O2 control is one feature in particular that is gaining interest in applications such as stem cell culturing and IVF.

O2 control "reduces the amount of oxygen in the incubator so [researchers] can better mimic the conditions of the human body, providing results that are more predictive of the in vivo environment," he explains.

However, both experts stress that if your current unit still runs well and fits your needs, you're probably fine just sticking with it and saving the cost of buying new. Most labs that have low throughput or routine requirements can make do with an older incubator.

Upgrading just parts of an incubator is an option that can save money, but often isn't worth it in the long term, as it could involve a complete redesign of the unit, requires experienced technicians to do the work correctly, and could mean lots of downtime, Schulties and Wernerspach say.

Just upgrading parts of a unit "may be just as expensive when considering part costs plus service," Schulties says while Wernerspach adds that in most cases, "it is usually more cost effective to purchase a new unit to obtain the features and capabilities that your laboratory needs."

While buying new means lots of cool features and a nice clean incubator, it takes some getting used to, especially when switching to an unfamiliar vendor, the experts add. If a technology is unproven or the vendor is unable to provide the proper support, a new incubator can mean more headaches.

Shel Lab's latest CO2 incubator, the 3552. On top of that, many lab staff often resist change despite the benefits.

"People (lab co-workers) will complain about change, always," Schulties says. "Even if it is better, it is different."

Wernerspach agrees, adding that getting independent data on an incubator's features is very important before buying in order to prove those features actually perform as advertised.

Also before purchasing, the two experts say the main things to consider are the applications you'll be using the unit for, comfort, and overall costs.

"If the technicians and the researchers are not comfortable with the operation or it requires a lot of handling, that creates more opportunity for pieces to be broken or lost," Wernerspach stresses.

Schulties adds: "For the biggest bang for the buck, look at warranties and overall maintenance costs" in terms of filters, etc.
Article courtesy of LabManager Magazine.
Check out our CO2 Incubator Category on LabWrench.