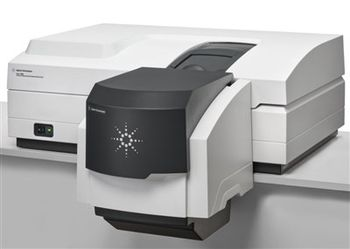 Agilent Technologies Inc. launched the Cary 7000 Universal Measurement Spectrophotometer (UMS), offering the highest quality and performance of any UV-Vis-NIR system, including complete sample characterization, lower cost per analysis and improved data quality for thin film, solar, glass, optics and other advanced materials applications.

The new product offers researchers a cutting-edge tool for discovery and development, and it provides manufacturers with the ability to reduce costs through faster time-to-market and more rigorous quality control. The fully automated Cary 7000 UMS delivers:
Measurements of transmission, absolute reflection and scattering without moving the sample.
Automated, unattended operation that saves time and money.
Superior optical performance that provides world-leading 10 Absorbance unit capabilities to measure the most challenging of samples.
"The Cary 7000 is an invaluable tool for all labs and companies producing multilayer optical coatings for different applications, especially highly demanding coatings consisting of many dozens of layers," said Michael K. Trubetskov, Ph.D., leading research fellow for the Research Computing Center at Moscow State University. "I was particularly impressed by the fact that even for large incident angles, multi-angle data are still consistent."

"Nothing like the Cary 7000 UMS exists in the marketplace today," said Olivier Muller, Ph.D., research scientist at the ISL-French-German Research Institute of Saint-Louis in France. "It is incredible to be able to do S & P polarized light and R & T at various angles, automated, at the same spot on the sample."

"The Cary name is synonymous with high-performance and has become the standard for researchers wanting to extend the boundaries of spectrophotometric measurement," said Philip Binns, Agilent vice president and general manager for spectroscopy products. "The Cary 7000 UMS continues this tradition by offering the greatest flexibility, performance and productivity ever seen in a UV-Vis-NIR spectrophotometer."