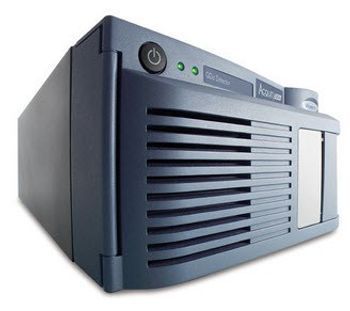 Detector Puts the Power of Mass Detection Within Reach of Every Analytical Scientist

Waters Corporation introduced the new Waters® ACQUITY QDa™ Detector, the first mass detector to bring high-quality, mass spectral data to chromatographic separations. Waters is now shipping the new mass detector worldwide.

Designed as a synergistic component of a chromatographic system, the ACQUITY QDa Detector is compatible with Waters ACQUITY® UltraPerformance LC® (UPLC®), ACQUITY UltraPerformance Convergence Chromatography™ (UPC2®), Alliance® high performance liquid chromatography (HPLC) and Waters supercritical fluid chromatography (SFC) and LC-based purification systems.

"The ACQUITY QDa Detector is the realization of a vision that started 20 years ago at Waters," said Art Caputo, President, Waters Division. "We foresaw a day when we could blend chromatography and mass spectrometry technologies together in a way that gives every analytical scientist access to mass spectral data regardless of their previous experience with mass spectrometry. The ACQUITY QDa Detector adds a whole new dimension to separation science and it is the most progressive leap forward in chromatography detection since the first photodiode detectors were introduced decades ago."

The result of 30 years of Waters mass spectrometry experience and innovation and featuring 37 new patents and patents pending, the ACQUITY QDa Detector addresses the barriers of complexity, size and cost that have hindered the adoption of mass spectrometry for everyday use. It is purposefully designed for analytical scientists who need mass spectral data without the complexity of a mass spectrometer. With the on/off simplicity that analytical scientists have long wanted from mass spectrometry, the ACQUITY QDa Detector fully automates sample analysis and eliminates sample-specific adjustments for certainty in sample results, from user to user and system to system. Robust and reliable enough for routine use, the ACQUITY QDa Detector generates the high quality mass spectral data expected of a single quadrupole mass spectrometer in a mass detector no bigger than a familiar photodiode array (PDA) detector.

The ACQUITY QDa Detector complements optical detection, such as the PDA detector, by confirming the identity of compounds with mass spectral information. Additionally, the ACQUITY QDa Detector extends the limits of sample detection for a chromatographic separation by quantifying compounds having no UV response or that are present at levels not detectable and quantifiable by optical detection. By simplifying laboratory workflows, the detector enhances the value of every analysis and increases productivity by eliminating the need to run additional assays or turn to time-consuming alternative techniques in order to establish with certainty the levels and identity of specific sample compounds.

The ACQUITY QDa Detector is available now for separations systems running Empower® 2 & 3 Chromatography Data System (CDS) software, including enterprise deployment with automated qualification. Empower 3 makes mass and UV spectral data processing as integrated as the separations systems they were acquired on. The ACQUITY QDa Detector is also available now for MassLynx® 4.1 Mass Spectrometry Software.

The ACQUITY QDa Detector is set to transform pharmaceutical discovery & development, chemical materials and food laboratories engaged in method development, sample profiling, synthetic chemistry and purification.