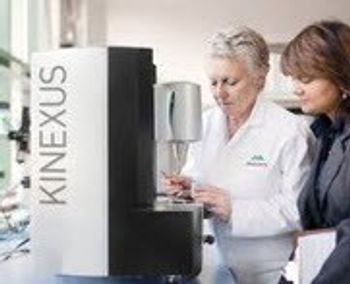 Malvern Instruments has introduced two new models to its Kinexus line of rotational rheometers. The new Kinexus pro+ and Kinexus ultra+ incorporate enhancements to Malvern's unique proprietary air bearing technology, the performance defining technology that sits at the heart of the rotational rheometer. These enhancements add to the capabilities of Malvern's rotational rheometers for R&D by extending the range and robustness of test conditions that can be applied during rheological characterization. Full details of the new Kinexus models are on the Malvern website where visitors can also download a brochure describing the complete Kinexus range http://www.malvern.com/kinexus

Kinexus pro+ and Kinexus ultra+ capitalize on and extend the market-defining strengths of the Bohlin rheometers that precede them and which are known for their low torque, high sensitivity measurement. Bohlin and its portfolio of rheometers became part of Malvern Instruments in 2003, adding the strengths in rheometer design that resulted in the launch of the Kinexus range of rotational rheometers in 2008. The new enhancements to Malvern's air bearing technology included in the Kinexus pro+ and Kinexus ultra+ further reduce the inherent torque bias that exists in all rotational rheometer bearings. This development minimizes data corrections and extends the torque range of the instrument. As a result Kinexus ultra+ delivers the widest torque range of any Kinexus rheometer model to date.

Malvern's Kinexus rheometers deliver high performance characterization of dispersions, complex fluids and soft solids and are used within a diverse range of industries and applications - from pharmaceutical drug development through to food quality testing. The Kinexus platform has dual-action capabilities for advanced shear and vertical testing that enable detailed investigation of the structural characteristics of dispersed systems. The Kinexus rSpace software user interface has broken new ground in using sequence-driven operation, which delivers both the flexibility of test design needed in academic research and the Standard Operating Procedure (SOP) protocols essential to consistent testing in an industrial environment.

Malvern's range of rheometers is supported by a global network of rheology experts, whose experience, applications expertise and know-how help users in all areas of industry and academia to get maximum benefit from their investment.