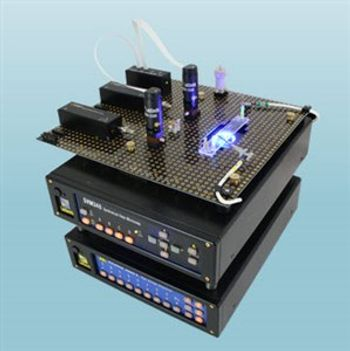 A microfluidic instrument manufacturer and leading glass device manufacturer are partnering to provide seamless access to an expansive range of tools for microfluidic and lab-on-a-chip experiments. Trianja Technologies, Inc., headquartered in Allen, TX, is a glass, quartz, and fused silica chip foundry spun off from a leading photomask manufacturer. LabSmith Inc., based in Livermore, California, offers a wide range of tools for innovative laboratory electronic and microfluidic solutions.

LabSmith and Trianja join forces in the promotion of the LabPackage Micro and Nano-Fluidic Workstation and microfluidic chips. Co-promotion of LabSmith's complete instrument solutions for lab-on-a-chip experiments with Trianja's silica-based "Discovery Fluidic" microfluidic chips highlights a simplified automated platform for the control of fluids and voltage in a microfluidic set-up.

"Combining the LabSmith instrumental tools for hydrodynamic and electrokinetic flow control with Trianja glass, fused silica, and quartz chips will provide researchers with an integrated microfluidic solution for precise fluid and voltage control," explains Trianja's President of Commercial Operations, Michelle Lyles. LabSmith President and CEO, Kirsten Pace, agrees, stating, "The approach promoted by LabSmith and Trianja will be useful for many lab-on-a-chip applications in R&D laboratories"

Trianja and LabSmith plan to leverage their technical expertise and market experience to offer products that can be easily integrated into any microfluidics experiments for R&D laboratories and industrial applications.