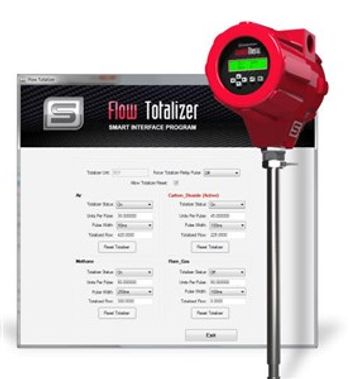 Totalize All Gases with One Mass Flow Meter

Sierra Instruments, a leading global mass flow meter manufacturer, releases new free flow totalizer software module for their QuadraTherm® 640i/780i mass flow meter. Through their QuadraTherm Software Interface Program (SIP), end users now have an efficient management tool to totalize and monetize all gases with one instrument. The flow totalizer software module leverages QuadraTherm's high accuracy (+/- 0.5% of full scale) to give end users the most accurate totalization of multiple gases from an industrial flow meter.

"Here at Sierra we are continually developing and adding value-added tools and features to our products to help our customers. The QuadraTherm SIP software flow totalizer feature all started with a customer requirement that we believe will be useful to all our flow customers," said Scott Rouse, Vice President, Product Line Management.

Key Software Benefits
View the totalized value of multiple gases
Totalize up to four gases with one device and software package
Set units per pulse and pulse width
Turn totalizers on/off
Reset totalizer
There are four totalizers visible on the user interface screen of the SIP software. The user selects one to be active. Each totalizer is independent of the others, allowing users to totalize one gas, then switch and totalize another gas. End users can switch back to their previous gas to begin totalizing flow with the previous flow total maintained or reset if necessary.

How to Get the Flow Totalizer
Starting this September, Sierra's QuadraTherm 640i/780i products include the totalization feature as part of the SIP software program. This feature is free of charge. Customers with 640i/780i meters purchased prior to September 3, 2013 (firmware 1.0.73 or lower) can send their meters back to the factory for a firmware upgrade.