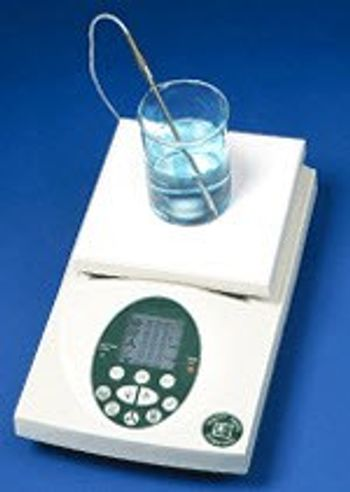 Torrey Pines Scientific, Inc. announces its NEW EchoTherm™ Digital Stirring Hot Plate for use in chemical, pharmaceutical, environmental, biochemical, and other laboratories where simple, reproducible, and accurate sample preparation and experimentation are a must.

With the easy to use EchoTherm™ Model HS30, all functions are set through the front panel membrane keypad and full-functioned custom liquid crystal display. The unit displays target and actual temperature, temperature ramp rate, stirring speed and time.

Heater plates are 8" (20.3 cm) x 8" (20.3 cm) white solid ceramic glass for excellent chemical resistance and quick heating. The plate surface can be heated from ambient to 450°C in less than 3 minutes.

Plate surface temperature or solution temperature can be controlled directly using the appropriate PID control loop to 1°C of the target. Accuracy is 1% of the reading using platinum RTD circuitry. The units are supplied with temperature calibration certificates traceable to NIST.

Stirring speed is 100 to 1500 rpm and controlled by optical coupler to 10 rpm. Count down timer with alarm and user settable Auto-Off are standard. An RS232 I/O port also is standard with the unit. Various sample probes are available as accessories. The Model HS30 is available in 100, 115, and 230 VAC, 50/60 Hz models. All units are UL, CSA, and CE certified.