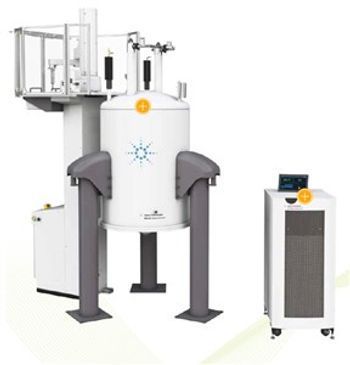 Agilent Technologies Inc. introduced a nuclear magnetic resonance spectroscopy platform ideal for use in academic, pharmaceutical and applied chemical laboratories. The ProPulse NMR System brings true ease-of-use to high-performance NMR.

The compact ProPulse 500 and 600 MHz NMR System comes standard with Agilent's VnmrJ software, providing users with a comprehensive, intuitive interface to generate high-quality data with increased speed and simplicity. The combined hardware-software system empowers researchers to easily perform complex NMR experiments with consistent results.

The ProPulse NMR System integrates uncompromised Agilent DirectDrive console performance into an advanced, compact, space-efficient platform. Other key tools and benefits include:
The VeriPulse tool-kit, which automatically optimizes performance and minimizes maintenance costs.
Wireless remote status tablet compatibility that makes system monitoring possible and simple from anywhere in the lab.
Easy siting, streamlined system interconnects, and standard power interface.
High-quality data for software applications, such as CRAFT (Complete Reduction to Amplitude and Frequency Table), that extends NMR into data-intense applications, such as reaction monitoring or metabolomics, to deliver fast results.
Compatibility with existing NMR magnets
"We are excited to offer a new platform that enables automated, small-molecule NMR analysis," said Regina Schuck, Ph.D., vice president and general manager of Agilent's Research Products Division. "This simple yet powerful system increases the effectiveness of NMR users of all levels. We are setting a new standard by offering researchers an NMR system that accelerates their speed-to-productivity through intuitive and highly automated experimental setup and maintenance."

Agilent offers a complete portfolio of nuclear magnetic resonance solutions for research and industrial applications that can be used to analyze both small- and large-molecule compounds. Agilent's NMR spectroscopy systems are modular, ranging in size and capacity according to their intended use. The company supplies these products to a wide range of industries including chemical, pharmaceutical, food science, metabolomics and more.