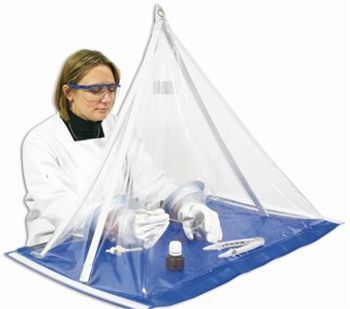 Erlab's Captair Pyramid…a light-weight, portable isolation chamber for use in forensics investigation
The Captair Pyramid is designed to protect the user during the investigation and transport of biological samples. It is a multi-function disposable glove box made of high-quality transparent PVC. Assembled in a few seconds, it can be used anywhere. The slanted shape of the enclosure provides an ergonomic working position for the user. Light, mobile and disposable, it is an ideal protection tool for use in the laboratory or in the field.

This enclosure allows the user to
• Open suspicious packages
• Work in an inert atmosphere
• Collect samples on location
• Reveal fingerprints
• Splash protection(biopsies, etc.)
• Performing activities that need to be sheltered from
dust or humidity

It may also be used to protect people from spattering during biopsies and to perform tasks while sheltered from dust and moisture.

Each Captair Pyramid is inflated with compressed air at a pressure of 2.5 mm Hg. Once the air-tight seal has been tested, it is given a serial number and a certificate to ensure user safety. The Pyramid is supplied with a flexible PVC package for easy transport.