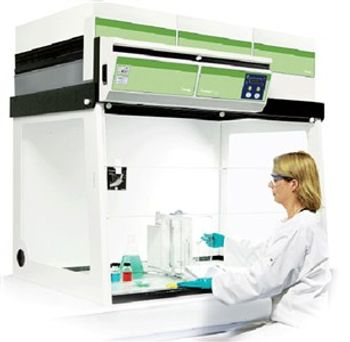 Erlab's CaptairFlex... A safe, economical and flexible alternative to traditional fume hoods.

Designed to protect users during applications that emit vapors and/or chemical particles, the CaptairFlex line offers a level of performance that ensures your safety while offering an environmentally-friendly energy saving alternative to traditional systems.

Based on Flex technology -a flexible, adaptable modular filtration column- this line of chemical protection enclosures offers a wide range of possibilities and allows you to carry out a variety of applications in your laboratory.

The modular design of the filtration column makes the new Captair line adaptable to the laboratory safety needs of any field. The interchangeability of the filters allows the filtration column to be configured specifically for the applications carried out within the enclosure.

The high containment and filtration performance of this technology offers users a high degree of protection, in accordance with the AFNOR NF X 15-211: 2009 standard, class 1 and class 2.

Erlab's CaptairFlex line is suited for a number of industries such as: chemical, pharmaceutical, cosmetics, biochemical, academics, petrochemical, forensics, manufacturing, agro-food, and hospitals.