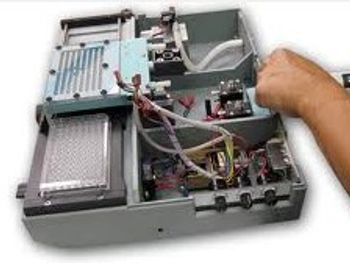 Top 4 Signs That You Should Service or Replace Your Microplate Reader
Misalignment of the microplate transport system with the measurement optics is one of the most common problems to occur in microplate readers over time. The easiest way to diagnose this problem is to fill each well of a 96- or a 384- well plate with the same concentration of fluorescein (or another colormetric dye). Measure the entire plate. If there is a trend of increasing or decreasing values across the plate, and if the same trend is seen after the plate is turned 180 degrees, then the instrument may be misaligned and the manufacturer should be contacted for service.
When users need a new feature, a new detection mode, or a new technology that is not found in their current instrument, it's usually time to replace their current instrument.
The instrument's software is out of date and an update is not available for the user's current system.
Wear and tear on the reader, such as degraded filters or worn out motors and belts, can also mean it's time to replace or service the instrument.
Tip: One way to keep a microplate reader going is to have an annual QCPM (Quality Control Preventative Maintenance) check.

Top 6 Signs That You Should Service or Replace Your Microplate Handler
Your current system is so old that it does not include features such as scheduling, thermosensors, or error detection and correction and your lab has the workload to require such functions.
You do not have the correct size or complexity of microplate handler for your applications and throughput. For example, single-plate capacity plate handlers create bottlenecks when one assay component is completed but the next one is not yet ready to accept the plate.
The software and user interface of your current system is too difficult to use and to set up new protocols.
The system is not flexible enough to reconfigure for new applications and does not integrate well with your other instruments.
System components (sensors, belts, etc.) are worn out and/or the handler is constantly experiencing errors with the software or mechanics.
Top 8 Questions You Should Ask When Buying a Microplate Reader
How many read modes are offered? Multiple read modes offer greater flexibility and value than single read modes for those working with, or considering the addition of, various assay platforms.
What kind of detection technology is used? Monochromator-based detection offers flexibility, convenience and spectral scanning; while filter-based detection is characterized by precise sensitivity and may often switch rapidly between distinct wavelengths for kinetic assays. Hybrid detection systems combine both technologies in one compact unit for the utmost in flexibility and sensitivity.
Is it upgradeable? If so, can the upgrade be installed on-site, or must it be shipped back to the factory? On-site installations reduce overall downtime, and often the technician is available to answer questions or conduct training.
Is the reader automatable? Manual plate handling slows productivity as throughput increases. Automating the process with a compatible microplate stacker increases throughput with walk-away operation.
Ask about the software—is it integrated and user-friendly? Does it allow for pre-programmed and custom protocols? What kind of analysis is offered? How is data exported?
Is on-site training available? Is there a fee? On-site training provides an opportunity for all staff to learn about the reader, reducing the amount of subsequent training needed.
What options are available? Options such as gas control, barcode scanning, shaking, and injecting increase assay flexibility for those that need these features, and as options, do not add additional unnecessary expense for those that do not need them.
What assay validation data is available for the reader? Assay validation data specific for the reader provides proof that the reader performs as indicated.
Top 6 Questions You Should Ask When Buying a Microplate Handler
How many plates and plate types can the handler accommodate? An ANSI-compatible handler provides increased flexibility for those using multiple plate densities (ex. 96-, 384-, 1536-well) or low-volume plates, and interchangeable plate stacks accommodate varying throughput requirements.
What is the transfer speed? Transfer speed is especially important for increased throughput. Adding a dual plate carrier keeps two plates in process, thus further increasing assay efficiency.
Can the handler operate in portrait and landscape configurations? A rotational gripper option optimizes positioning of the microplate handler with its mating instrument, thus improving flexibility and efficient operation.
Does the handler fit into a hood or biosafety cabinet? Placing a microplate handler within a hood or biosafety cabinet allows users to maintain personal safety and protect samples.
Is the handler compatible with a wide variety of other instruments?
Does it come with a barcode reader for easy microplate identification? Barcode scanning is especially useful for increased throughput.
Article courtesy of LabManager Magazine
Visit the Microplate Technology Category on LabWrench