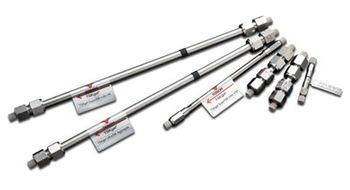 Tosoh Bioscience
announced today a new addition to the recently launched line of size
exclusion high performance liquid chromatography (HPLC) columns for the analysis of monoclonal antibodies (mAb.) This column is now available for sale in the Americas from Tosoh Bioscience.
The new silica-based
TSKgel® SuperSW mAb HTP column
(HTP for "high throughput) offers high throughput separation of the dimer and monomer of a mAb in a dramatically reduced analysis time.
The TSKgel SuperSW mAb HTP column utilizes the same unique pore-controlled technology as the other TSKgel SuperSW mAb columns. This exclusive technology produces a shallow calibration curve in the molecular weight region of a typical monoclonal antibody, resulting in high resolution separations.
Specialized for fast and efficient run times, the TSKgel SuperSW mAb HTP column features a smaller ID and shorter length of 4.6 mm ID × 15 cm. Its ability to withstand high flow rates at low back pressure makes the TSKgel SuperSW mAb HTP column compatible on both traditional HPLC and UHPLC systems.
This column joins the TSKgel SuperSW mAb column line, which includes two columns launched in the Americas in July 2013. The TSKgel SuperSW mAb HR is optimized for the higher resolution separation of mAb monomer and dimer/fragment, while the TSKgel UltraSW Aggregate is specialized for the analysis of mAb aggregates.
Compared to competitive columns, these new stainless steel, silica based TSKgel columns offer reduced lot-to-lot variation, long column life, reduction of unspecified adsorption, and superior recovery of aggregates.