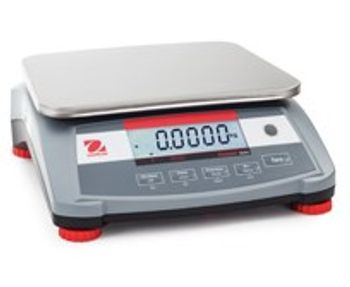 New Series of Compact Bench and Counting Scales Sets - New Standard for Compact Industrial Weighing Equipment

OHAUS Corporation, a leading manufacturer and marketer of quality balances and scales, announces the launch of the Ranger 3000 and Ranger Count 3000 compact bench and counting scales. Designed to provide maximum flexibility and enhanced functionality, the new Ranger 3000 and Ranger Count 3000 offer multiple application modes and flexible features to meet the most demanding industrial weighing needs.

Portable and appointed with a rechargeable battery, the Ranger 3000 and Ranger Count 3000 can be used in every corner of the factory and are equipped with functions that elevate the scales to a class of their own. Each of the Ranger scales are available in five capacities with readabilities up to 60 lbs. and can display results in grams, kilograms, ounces, pounds and pound:ounces, to meet the requirements of a variety of industrial weighing applications.

Ranger 3000

The Ranger 3000 offers weighing, percent weighing, parts counting, checkweighing, check counting, check percent, accumulation, dynamic weighing and display hold application modes. It also comes equipped with one of the largest LCD displays in its class and checkweighing LED's for additional clarification of results. The Ranger 3000's weigh below hook offers the functionality to perform specific gravity tests and can be used to weigh items that cannot be easily lifted on to the weighing pan.

A convenient carrying handle and standard rechargeable lead acid battery can provide power for up to 210 hours. The RS232 with optional Ethernet, second RS232 and USB offer varied options for connecting to peripheral devices. The Ranger 3000 also provides quick operation through its simple setup, user-friendly interface and less than one second stabilization time.

Ranger Count 3000

The Ranger Count 3000 offers extremely accurate weighing, parts counting, check counting and weighing capabilities through its 1,500,000 internal counting resolution and 30,000 displayed resolution. The scale also includes parts counting auto-optimization software and low piece weight alert, which ensures counting accuracy and minimizes errors during the critical parts counting process.

With its centralized counting window, dedicated Tare and Sample keys, and full numeric keypad, the Ranger Count 3000 is one of the easiest counting scales to operate on the market. For use in annual inventories or bulk counting operations, the Ranger Count 3000 can be connected to an external base using the optional second base input. Additional benefits include one second or less stabilization time, standard RS232 with optional Ethernet, USB or second RS232 capabilities, integrated carrying handle, rechargeable lead acid battery, and memory function with a total of 10 entries such as part ID number, Average Piece Weight, and Pre-Set Tare for commonly-used packaging.