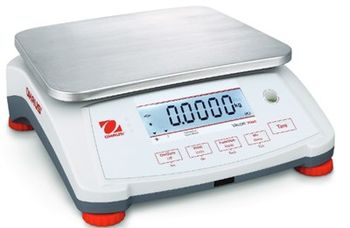 OHAUS Corporation, a leading manufacturer and marketer of high quality balances and scales, announces the launch of the Valor 7000 line of compact food service scales. Unlike any other product on the market, the Valor 7000 sets a new standard for precise, fast and hygienic food scales.

Designed for restaurants, bakeries, foodservice and other culinary areas requiring fast operation and flexibility, the Valor 7000 scales provide a variety of standard features to improve the efficiency and accuracy of food weighing.

Valor 7000 offers a less than one second stabilization time to provide unmatched throughput. Touchless sensors in the front and back of the scale can be programmed to perform a variety of functions and provide touch-free operation, promoting a hygienic workspace and reducing the chance of cross contamination. Dual displays with bright backlights located in the front and back of the scale, allow two operators to share one scale and are easy to read from a distance in retail applications.

With capacity and readability combinations ranging from 1.5 kg (3 lbs) by 0.05g (0.0001 lb) to 30kg (60 lbs) by 1g (0.002 lb), the Valor 7000 offers precise and dependable performance that meets the weighing needs of a variety of culinary sectors.

Valor 7000's application modes include weighing in lb, oz, lb:oz kg, g, percent weighing for use in baker's percentages, checkweighing for packaging and sorting and accumulation of weighing results. It also offers bright LED checkweighing lights to quickly tell the operator when the weight on the pan is within the required weight range.

The entire line also offers multiple connectivity options to meet advanced data transfer needs. RS232 is standard on all models and optional 2nd RS232, Ethernet, and USB are available. Valor 7000 also includes a built-in internal rechargeable battery that offers 210 hours of operation between charges, as well as an internal 100-240 VAC universal power supply.

Valor 7000 is NSF Certified, USDA-AMS Accepted, and supports HACCP Systems and is NTEP Certified and Measurement Canada Approved for legal-for-trade applications. With a sealed front panel and removable, dishwasher safe stainless steel weighing pan, the durable ABS housing can be quickly cleaned.