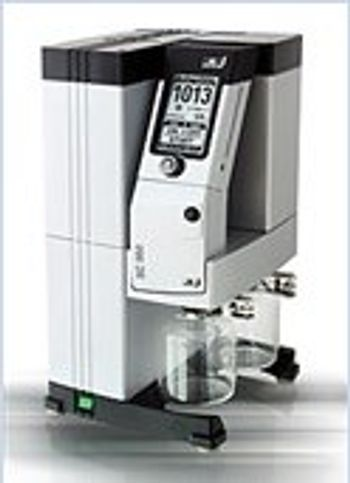 KNF Vacuum Systems Allow Lab Personnel Full Operation from 90 Feet; Can be Used with All Models of Rotary Evaporators

KNF Neuberger SC920 and SC950 vacuum pump systems provide unique innovation in controller-managed vacuum systems via Bluetooth-enabled wireless operation. Therefore, these vacuum pump systems combine ease of setup and operation, as they can be installed virtually anywhere in the lab for short process times with high accuracy and recovery rates – even for low boiling point solvents.

"SC920 and SC950 vacuum systems provide a new level of installation benefits, as Bluetooth control allows lab personnel to operate the products while stowed beneath the work surface, within cabinets or the fume hood," said Dan McDougall, Senior Manager, Laboratory Products. "Operating SC920 and SC950 wirelessly within the fume hood and with the sash fully closed doesn't just add precious bench space in the lab; it eliminates annoying cable feed-throughs, provides meaningful energy savings and also creates a safer working environment. In addition, once the desired vacuum is reached, the pump's motor operates only occasionally to maintain that level instead of running at full speed, saving not only energy, but wear and tear."

Specifically, KNF SC920 and SC950 vacuum pump systems feature a wireless remote with intuitive user guidance, ensuring ease of operation and allowing process parameters to be entered on a touchscreen and rotary knob. Lab personnel can set up and operate the vacuum pump -even when it's not in sight- thanks to the added benefits of Bluetooth control. Therefore, they provide precise vacuum while offering control functions for a wide variety of lab applications.

KNF SC920 and SC950 vacuum pump systems provide fast and precise processing, quiet operation and easy regulation from afar using the remote. Each vacuum system allows all process parameters to be entered and adjusted using the systems' portable Bluetooth-enabled remote, which integrates a user-friendly touch screen, rotation knob and intuitive user guide. The pumps feature a patented diaphragm stabilization system, which develops high suction speeds, even at low pressures. The SC920 provides flow rates up to 20 l/min (at atmospheric pressure), whereas the SC950 offers rates up to 50 l/min (at atmospheric pressure).

KNF SC920 and SC950 vacuum systems offer ultimate vacuum of 1.5 Torr (2 mbar) absolute. Supported operating modes include vessel evacuation with adjustable pump capacity, constant pressure control managed precisely to selected values, automatic detection of a sample's vapor pressure and programmable regulation of process pressure.