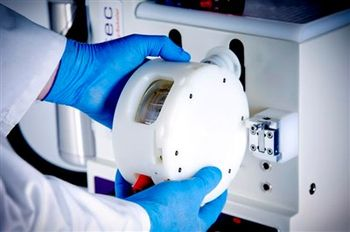 The patented Cooled Reactor system, developed by Vapourtec (Suffolk, UK) and launched in 2010, is continuing to play a key role in major flow chemistry research breakthroughs.

Recently cited in an important research paper "Continuous flow-processing of organometallic reagents using an advanced peristaltic pumping system and the telescoped flow synthesis of (E/Z)-Tamoxifen" by the Group of Prof Steven V. Ley, Department of Chemistry, University of Cambridge (UK), the system contributes to a more efficient manufacturing process for Breast Cancer drug Tamoxifen.

The system, which offers the ability to run continuous cryogenic reaction conditions down to -70C without the need to use expensive chillers and external devices, is currently used in laboratories around the world in conjunction with Vapourtec's industry leading E-Series and R-Series flow chemistry systems.

Andrew Mansfield of Vapourtec commented: "The Cooled Reactor system utilises a dry ice heat exchanger to generate a chilled gas supply that cools the reactor down to the required temperature.

"A total of 110 research laboratories across the globe are currently using our patented Cooled Reactor system to maintain temperature consistency during flow chemistry experiments.

"It's a ground breaking addition to our existing R-Series and E-Series flow chemistry systems that, three years after its introduction, is contributing to some of the most exciting chemistry research developments," added Andrew.