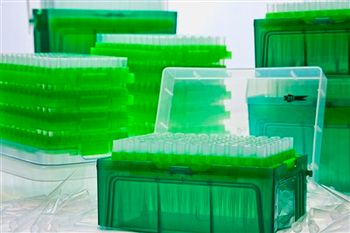 SSI,
an American manufacturer of consumable plastics for laboratory researchers for over 23 years has launched a new comprehensive family of pipette tips designed to provide researchers with the highest level of liquid handling performance.
The
Vertex™ Pipette Tips
were developed following extensive research to provide users with a high degree of fluid confidence and control while pipetting. SSI internal studies have indicated their tips provide less fluid retention and less sample loss. All Vertex tips are manufactured using SSI's specially formulated NoStick® resin. Through use of this resin, the inner surface of the tip is considerably more hydrophobic than standard industry tips enabling viscous fluids in particular to be dispensed more completely. The finely tapered tip construction and thinner walls eliminate the need for users to touch off their pipettor. Researchers maintain more pipetting control in general, but especially when working with smaller volumes.
SSI has produced a short video detailing their new Vertex™ Pipette Tips. It can be found on their microsite (www.vertextips.com).
The new range of tips includes bulk, racked, sterile, and EcoPac® (refill insert) options. They are producing Un-Filtered and Filtered varieties in 10µl, 10µlXL, 200µl, 300µl, 1mL and 1250µl sizes.
The Vertex line includes a time-saving EcoPac® Refill System. The new system does not require any tools or special instructions to enable users to move from an empty insert to a fresh set of 96 tips. The Vertex racks were uniquely designed for one-hand operation. A simple press on the front of the lid releases it from the rack; otherwise the lid sits securely closed. The EcoPac refills provide over a 70% savings in total materials (including products and packaging).