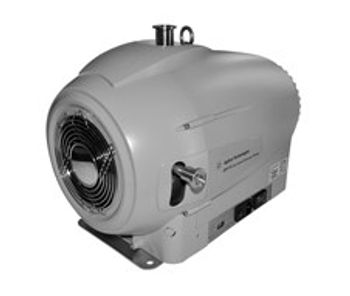 Agilent Technologies Inc.
introduced the
IDP-15 Dry Scroll Pump
, featuring a hermetic, isolated design. With a 60 Hz pumping speed of 15.4 cubic meters per hour, the IDP-15 provides rapid pump-down and is ideal for use in academic, research, analytical instrumentation and industrial applications. It is exceptionally quiet and vibration-free, and its single-sided scroll design makes it highly cost-effective, requiring only simple annual maintenance.
The IDP-15 replaces Agilent's popular TriScroll 300 Dry Scroll Pump and will also be available in a second, inverter-driven pump later this year. That instrument will feature variable speed operation, global voltage compatibility and optional remote control.
"I highly recommend the IDP-15 for use with both mass spectrometry and plasma instruments," said Dr. Guido Verbeck, associate professor of chemistry at the University of North Texas, who is using the new pump in his high-vacuum instrument laboratory.
"The pump-down speed greatly exceeded our expectations, and the base pressure was five times lower than the similar conventional rotary vane pump," he added. "Because of our need for a dry environment for plasma processes and ion manipulation, the IDP-15 reduced back-streaming of unwanted chemistry by two orders of magnitude, allowing my group to more accurately exact plasma processes."
"The first things users will notice about the new dry scroll pump is a significant reduction in noise and an increase in pumping performance," said Giampaolo Levi, vice president and general manager of Agilent's Vacuum Products Division. "They will also appreciate that it is very low-maintenance and will provide a valuable cost-savings over time."
Product features include:
Clean, dry vacuum pumping, suitable for all non-corrosive, non-hazardous academic, research, analytical instrumentation and industrial applications.
Hermetic design, which provides a closed vacuum space from inlet to exhaust.
Bearings and motor that are isolated from the gas path and not exposed to process gases or water vapor from the system.
Single-sided scroll design, which allows simple, infrequent maintenance.
Solid-tip seal, which provides a two-year service interval in most applications.
Pump noise that is <50 dBA.
Inverter option with top-panel LCD display (includes speed control, ability to power read-out active vacuum gauges and an auto on/off power up feature).