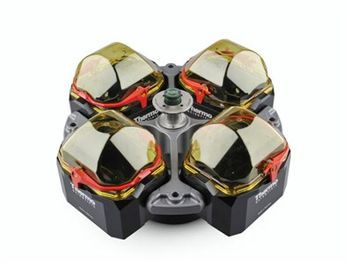 New enhanced general purpose centrifuge product line offers clinical and life science researchers the ability to spin more samples in a single run while maximizing critical lab space.
The
Thermo Scientific
general purpose centrifuges feature increased capacity and flexibility with rotor innovations including the new Thermo Scientific TX-1000 rotor, which is the only rotor on the market that employs a 4-liter capacity in a traditional 3-liter footprint. Additionally, the new Thermo Scientific
MicroClick 30 x 2
rotor offers a 30-place capacity for microtube and nucleic acid spin columns, and is ideal for molecular biology applications. These high-capacity rotors are designed to process more tubes in fewer runs, saving time while reducing energy and wear on the centrifuge.
"Clinical and life science researchers using a general purpose centrifuge are always looking to save time, space and money while increasing productivity," said Maurizio Merli, global product director, centrifugation, for Thermo Fisher Scientific. "Our latest rotor innovations address researchers' needs by allowing them to spin more samples in one run for increased production without surrendering space, performance or flexibility."
The Thermo Scientific general purpose centrifuge line is designed for a wide range of clinical and life science applications, from cell culture to bioproduction to proteomics, food safety, pharmaceutical, stem cell, microbiology and genomics. The general purpose centrifuge floor models conserve valuable bench space with an almost 25 percent smaller footprint compared to refrigerated benchtop models and a working height of 79 cm, providing true ergonomic design for removing tubes and exchanging rotors.
The new rotor innovations in the general purpose centrifuge line offer a number of features and benefits.
TX-1000 rotor:
Up to 40 X 50 mL conical tubes, 196 blood tubes or 24 microplates
Advanced lubricant and corrosion resistant coating
Dual-purpose large bucket design accepts adapters for tubes or microplates
MicroClick 30 x 2 rotor:
High 30-place volume for 1.5/2.0 mL microtube and nucleic acid spin columns
ClickSeal biocontainment lid for quick and easy sample access