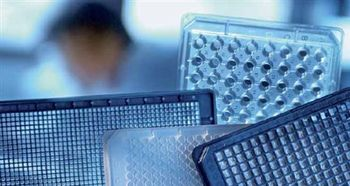 Greiner Bio-One, a leading technology partner for the diagnostic and pharmaceutical industry, is introducing a new 1536 well compound storage plate made of transparent cycloolefin at the "Society for Laboratory Automation and Screening" (SLAS) conference exhibition in San Diego, CA. The excellent optical, chemical and physical properties of cycloolefin microplates make them extremely popular in highly automated research. The new 1536 well microplate from Greiner Bio-One is particularly suitable for storing active ingredients.

In response to the large demand for microplates made of the new material cycloolefin, Greiner Bio-One is now expanding its product portfolio of high-format microplates with a solid-base transparent 1536 well version. Cycloolefin microplates are ideal for storing samples due to having a low water vapour permeability and resistance to polar solvents such as dimethyl
sulfoxide (DMSO). Glass-like optical properties and a high level of transparency also enable use of the microplates for biochemical testing.

The footprint of the new 1536 well compound storage plate conforms to the recommendation of the American National Standards Institute (ANSI 1-2004). The microplate top is absent of alphanumerical coding to render a smooth surface ideal for heat sealing and automated sealing techniques that use metal cover plates.

Unlike conventional 1536 well microplates made of polystyrene, the new microplate features a more conical well-top with a deeper volume, permitting even the smallest residues of sample material to be transferred.