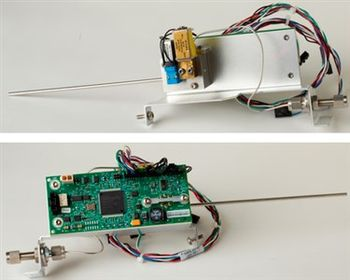 Agilent Technologies Inc. (NYSE: A) introduced the new Agilent Hydrogen Sensor for the 7890B Gas Chromatography system. The new sensor helps GC users move away from costly helium carrier gas by providing the additional level of security many organizations require in order to use hydrogen.

The self-calibrating sensor will automatically execute a safe sequence for the shutdown of the GC system if even a small hydrogen leak is detected, preventing potentially hazardous situations in the laboratory.

The hydrogen sensor is the latest in a series of carrier-gas-saving solutions to help GC users deal with helium supply shortages and rising helium costs. While hydrogen provides the fastest and highest resolution for chromatographic separations, sometimes changing carrier gas from helium is not possible or practical for a particular analysis. In such cases, the Agilent Programmable Helium Conservation Module, with "Sleep-Wake" modes for the Agilent 7890B GC to conserve helium, dramatically increases the length of time a helium tank can be used and reduces the cost of helium in the laboratory.

"Because laboratories face increasing supply-chain constraints and operating costs, it is our priority to develop products that provide economical operation," said Agilent's Jason Ashe, GC product manager. "We also work with our customers to develop a wide range of applications and analyzers that use a variety of carrier gases. These allow for immediate success implementing pre-optimized methods in the laboratory, significantly reducing the time-to-first-sample."

To further reduce gas chromatography labs' reliance on helium, Agilent provides alternate carrier gas solutions to help customers further decrease consumption or migrate to alternate gases. Helium conservation eliminates the need for method revalidation—a major hurdle faced by laboratories that switch to alternative carrier gases—and can reduce helium consumption by up to 90 percent.

To learn more about how Agilent is helping laboratories conserve helium, view Introducing the Programmable Helium Conservation Module.