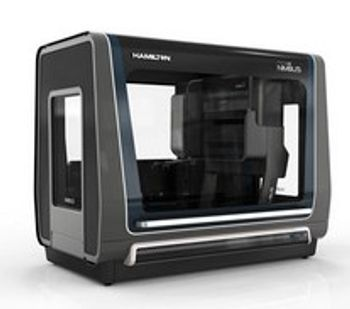 New workstation quickly handles most applications and accommodates multiple pipetting plate formats

Hamilton Robotics launches the Microlab® NIMBUS384™, a compact, multi-channel liquid handler that offers fast liquid transfers, superior accuracy and precision pipetting. The unique 384 50 µL, air-displacement, multi-probe heads add even more flexibility by allowing users to pipette in 384, 96, quadrant, column, row and single-tip formats.

The NIMBUS384 has an ultra-flat deck with 11- and 12- positions, which allows for tip stacking and 1,536 pipetting automation, thereby increasing the speed of workflow. The precision and highly accurate air dispensing multi-probe head has a dynamic pipetting range of 0.5 µL to 50 µL, enabling most application methods.

The Microlab NIMBUS software offers a range of unique features and can be easily programmed by virtually all users. The software provides two programming methods: vector based and a wizard-driven graphical user interface. Both methods are 21 CFR Part 11 compliant and offer features such as wordlist importing and exporting and error handling. Additional features include scheduling, integrated third-party device control, automated deck layouts, tip counting and 3D viewing.

All Hamilton NIMBUS workstations come with tip and waste stations and are available with an optional enclosure with locks, for safe and secure automation, as well as a labware gripper for on- and off-deck plate and tip movement, heating, shaking, cooling and vacuum positions.

The NUMBUS384 is one of the many new Hamilton NIMBUS workstations designed for specific lab needs. Hamilton is continually designing standard robotic workstations for critical applications that help to increase productivity and discovery.