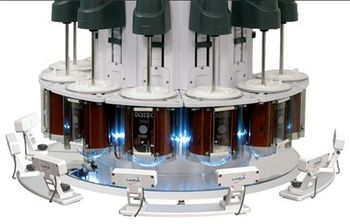 Distek, Inc., an industry leader in pharmaceutical laboratory testing instruments, accessories and validation services, is excited to release the LabEye Digital Video System for Dissolution testing monitoring and recording.

The LabEye Digital Video System, engineered by TwoSquare Science streamlines pharmaceutical
testing in both R&D and Quality environments. Designed specifically for laboratory use, the LabEye is a ready-to-implement multi-camera system. Both portable and scalable, the LabEye performs visual process monitoring, chronicles your research in HD clarity, keeps your lab secure, and provides automation troubleshooting.

Jeff Seely, Vice President of Sales & Business Development says "The LabEye system is the result of a collaborative effort between Distek, TwoSquare Science and industry leaders. The resulting system is a welcome and needed addition to any laboratory requiring process control and monitoring."

Take the stress out of research and add productive time to your day. The LabEye provides scientists
more free time while continuing to capture extremely important visual data. Optimize your time with
remote viewing and continuous video recording capability.