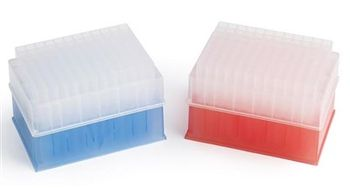 The Combipack™ from Porvair Sciences has been introduced for laboratories tasked with protein precipitation sample preparation. Comprising five colour coded Porvair P3 protein precipitation plates and five 1ml deep well collection plates the Combipack™ contains all the elements required to accelerate the traditionally troublesome procedure at a budget price.

Biological samples commonly contain proteins that interfere with downstream applications. The P3 plate uses the CRASH method, in which the protein is denatured with acetronitrile and the flocculant filtered out, allowing 96 samples to be handled at one time. The Protein Precipitation Plate, P3, is based on the industry standard MicroLute™ format, but without the chromatographic sorbent. Protein 'crashes' out of solution and precipitates directly in each well when acetonitrile is added, thus solving all common problems associated with the CRASH technique of protein clean-up. The novel dual frit, hydrophobically treated matrix means that there is no 'wetting out' and leakage of the sample through the plate before the application of vacuum. P3 is now commonly used as the protein precipitation plate of choice in many major pharmaceutical companies. Optional drain cap and top cap mats are available for those wishing to use vortex sample mixing.

Manufactured to the standard ANSI/SBS 96-well format footprint all plates in the Combipack™ are fully automation compatible.