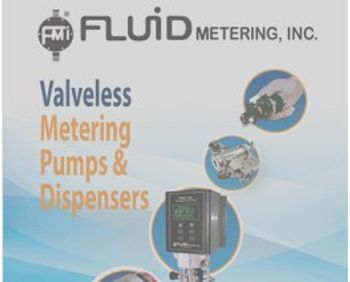 For 55 years, Fluid Metering, Inc. has been providing their unique valveless, ceramic piston pump design for precision fluid control in Laboratory, Process, and Industrial applications.

In addition, FMI's miniature OEM pumps have proven ideal for micro-volume fluid control in analytical, medical, and process analyzers and instrumentation.

FMI's newly released 2014 Full Line Catalog contains new products as well as expanded flow and configuration information. FMI's New "Intelligent" Programmable Pump is a compact stepper pump with integral programmable driver electronics. It is ideal for analytical and process instrumentation.

The PDS-100 Programmable Dispenser section has been expanded to show the many diverse single and dual channel pump configurations available. Duplex pump configurations are ideal for proportional mixing and dilutions, as well as dual production line dispensing.

The PDS-100 Smooth-flo Pump is a special duplex configuration, in which the pumps are synchronized to eliminate up to 96% of the pulsation typically present in conventional piston pump designs. Smooth -flo pumps are factory calibrated and are supplied with the necessary tubing, fittings, and configuration instructions to ensure pulse-free metering & dispensing.

The 2014 catalog also has a convenient fold out section that contains pump codes and pump head materials configuration. Opening this fold out section keeps the pump head information at your fingertips while also viewing various drive options.

Fluid Metering's NEW 2014 Catalog is available on their web site www.fmipump.com in PDF format for immediate download. Printed copies can be requested via email or phone. The catalog details standard products, operating principles, pump capacities, drive characteristics, materials of construction, typical applications and ordering information. Fluid Metering is certified as compliant with ISO 9001:2008 quality standards.