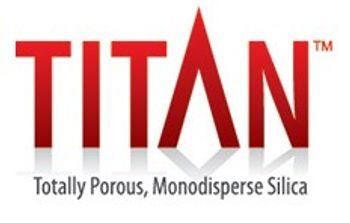 Sigma-Aldrich Corporation (NASDAQ: SIAL) today announced its Supelco® brand has released Titan UHPLC columns manufactured using the Company's new cost-efficient, patent-pending Ecoporous™ silica manufacturing process. Starting at a list price of $300, Titan columns contain the first sub-2 micrometer porous silica that is monodisperse and high-performance ( > 250,000 plates per meter), combining the advantages of solid-core and fully-porous particles.

"The Titan columns' reduction in the cost to perform UHPLC will not only improve the productivity of pharmaceutical and contract research organizations currently employing UHPLC for medicinal chemistry, toxicology, and clinical manufacturing, but will also extend the opportunity for budget-conscious academic labs focused on translational research to achieve industrystandard analytical performance and throughput," says Paul Ross, Director of Marketing and R&D, Analytical Separations at Sigma-Aldrich.
The Ecoporous manufacturing process emerged from a collaboration between Glantreo, a material science company based in Cork, Ireland, and Supelco. Supelco retains an exclusive license to this technology.
Cautionary Statement: The foregoing release contains forward-looking statements that can be identified by terminology such as "patent-pending," "will improve" or similar expressions, or by expressed or implied discussions regarding potential future revenues from products derived there from. You should not place undue reliance on these statements. Such forward-looking statements reflect the current views of management regarding future events, and involve known and unknown risks, uncertainties and other factors that may cause actual results to be materially different from any future results, performance or achievements expressed or implied by such statements. There can be no guarantee that this or any other product offering will assist the Company to achieve any particular levels of revenue in the future. In particular, management's expectations regarding this product offering could be affected by, among other things, the Company's ability to obtain or maintain patent or other proprietary intellectual property protection; competition in general; government, industry and general public pricing pressures; the impact that the foregoing factors could have on the values attributed to the Company's assets and liabilities as recorded in its consolidated balance sheet, and other risks and factors referred to in Sigma-Aldrich's current Form 10-K on file with the US Securities and Exchange Commission. Should one or more of these risks or uncertainties materialize, or should underlying assumptions prove incorrect, actual results may vary materially from those anticipated, believed, estimated or expected. Sigma-Aldrich is providing the information in this press release as of this date and does not undertake any obligation to update any forward-looking statements contained in this press release as a result of new information, future events or otherwise.