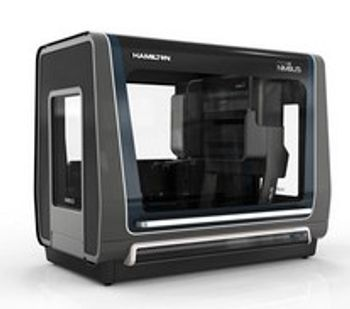 At the annual Society for Laboratory Automation and Screening (SLAS) conference, Hamilton Robotics has introduces the NIMBUS® PCR Workstation, which is a compact and affordable pipetting workstation enabling fast and flexible assay setup for endpoint, real-time, qPCR or multiplex PCR. The workstation is PCR-kit-neutral, has an easy-to-use software wizard and suits a wide range of applications such as gene expression, genotyping, sequencing and pathogen detection. In addition, the NIMBUS PCR Workstation offers a variety of tip and labware types and can accommodate six master mixes and 192 PCRs.

The NIMBUS PCR Workstation can quickly configure different PCR assays and can be used with basic Master Mix preparations and even restriction and ligation reaction setup. An additional feature allows for sample normalization either upstream for PCR setup or as a standalone function, such as for sample dilution or normalization.

The INSTINCT PCR wizard uses a graphical interface to guide users through processing gene and sample combinations. The software traces all input components, completes setup information throughout the process and saves all data for future use. The software allows protocols to be stored and includes validation steps to increase process safety. The INSTINCT wizard also has a flexible PCR plate-designing tool for maximum convenience, and displays real-time 3-D deck configurations.

The NIMBUS lines of workstations are designed for smaller budgets, yet still offer incredibly flexible application capabilities. It is just one of several NIMBUS application focused workstations coming in 2014.