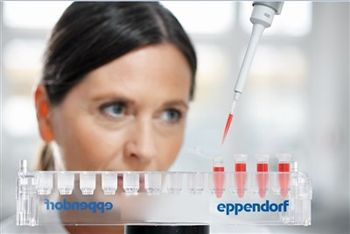 New ep Dualfilter T.I.P.S® SealMax filter tips from Eppendorf are designed to protect samples and pipettes against contamination through aqueous sample liquid during accidental over pipetting, as well as against contamination through aerosols and biomolecules.

In laboratories where research with precious, potentially harmful, samples is conducted, filter tips are mostly used. Working with adjustable volume pipettes can put the user at risk when combining pipettes with filter tip sizes that are beyond their capacity. An over pipetting situation can cause pipette contamination due to the sample passing through the filter. With the new ep Dualfilter T.I.P.S. SealMax, researchers can be confident their pipette is safe.

These filter tips do not only build a reliable barrier against liquid, should accidental over pipetting occur during routine laboratory work. The violet and white filter layers also retain practically 100 % of all aerosols and biomolecules. Unlike conventional self-sealing tips, ep Dualfilter T.I.P.S® SealMax filter tips combine two-phase filter protection with an innovative fluid and moisture barrier without the risk of the sample liquid being inhibited (e.g. PCR) after any contact with the filter. When in use, the tips initially seal as the aqueous liquid passes through the first hydrophobic filter layer, built to retain drops and splashes.

The sample then passes into a second filter layer, which creates a reliable barrier against the liquid and protects the pipette against contamination. Whenever overpipetting occurs during pipetting water or aqueous solutions with a single channel pipette, a specialized filter release mechanism enables aqueous liquids to be recovered without interruption by simple continuation of the pipetting process. A demonstration of sample recovery rate of water in the case of over-pipetting is documented in our new Application Note 273.

The PCR clean / Sterile (sterile and pyrogen-free) purity grade of Eppendorf's ep Dualfilter T.I.P.S® SealMax filter tips makes them safe for use across a range of applications. Lot-specific purity certificates are available online.