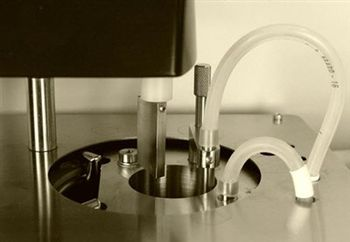 Cilas Particle Size announces a new Small Volume Unit for use with any of our high resolution laser particle size analyzers.
The Small Volume Unit is the perfect solution for users who need to measure very small quantities of a sample. The unit is fully integrated in your Cilas Laser Particle Size Analyzer for seamless operation. It is designed for use with liquid dispersion and has a capacity of 45 – 90 ml. The unit uses the stirrer and ultrasonic dispersion capabilities of the particle size analyzer and is controlled by Cilas' Size Expert Software.
Suitable for quality control and research applications, the Small Volume Unit is ideal for pharmaceutical, chemical, food and emulsion applications.
All Cilas particle size analyzers feature only lasers for the highest accuracy and resolution across the entire measurement range. Optical components are permanently mounted on a cast iron base plate to ensure the system is in alignment at all times. Cilas systems are fully compliant to ISO 13320, 21 CFR Part 11, and USP <429> standards.
Combine the new Autosampler LD with any Cilas particle size analyzer for a user friendly, time saving system that is ideal for unattended particle size analysis.