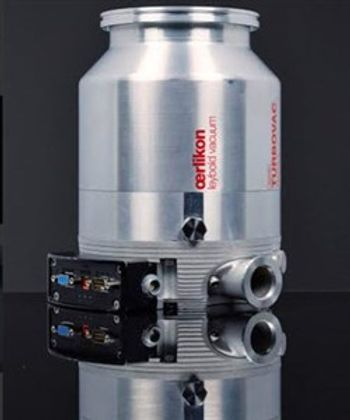 Oerlikon Leybold Vacuum presents a new line of turbo molecular pumps with integrated drive electronics. The new pumps of the TURBOVAC i product line consistently offer the highest performance even for widely differing requirements. Through their additional compression stage, the TURBOVAC 350 i and 450 i are particularly well suited for ultra-high vacuum applications and for integration within compact pump system solutions. Offering a pumping speed for light gases which is up to 60% above that of comparative products, and a compression level which is approximately 100 times higher compared to products of the previous generation, these pumps were designed especially for processes with small backing pumps. The TURBOVAC T 350 i and T 450 i designed with classic rotors excel with regard to high gas throughput, fast run-up time and insensitivity to particulates and are therefore optimized for process applications and high gas loads.

The TURBOVAC 350-400 i Multi Inlet pumps have been specifically developed to meet the requirements of analytical instrumentation by offering an extremely high degree of flexibility and allowing the customization of the number, height and position of the vacuum connections. Additionally, there is the option of adapting the pump housing or customizing the pump to your specific vacuum chamber.

?With the best ratio between performance and size in the ISO 100- and 160-range, our new turbo molecular pumps offer an innovative concept. Rotors and Holweck stages have been optimized. The result is excellent vacuum performance and a previously unattainable pumping speed. This accelerates pumping especially in connection with light gases? says Dr. Martin Füllenbach, about the new line of turbo molecular pumps.

The maintenance and oil-free hybrid bearings with lifetime lubrication excel through extreme reliability and durability making regular maintenance by way of oil changes superfluous. The bearing system ensures low vibration and low noise operation ? thereby being less demanding with respect to applications which are sensitive to vibrations. The ceramics ball bearings are replaceable on-site should this be required.

The optimized thermal design of the TURBOVAC i ensures optimum cooling of the bearings. To protect the bearings against critical gases or particles, all pumps have been equipped with a purge gas connection. This not only significantly increases the service life of the pump, but also system uptime in general.

The TURBOVAC i family offers numerous options for fulfilling a wide range of different requirements. Both the TURBOVAC 350 i and also the 450 i are available with an additional interstage port allowing pumping down of an additional chamber. In order to keep installation, operation and maintenance as simple as possible, the TURBOVAC i is equipped with a rotatable vacuum flange connection, integrated drive electronics with direct 24/48 V DC supply as well as a flexible communication interface with USB, RS 485 and digital I/O ports. Additional interface options are available upon request.

A flexible and comprehensive range of accessories supplements the new product line. It comprises among other things cost-effective power supplies for 100 V to 240 V mains supplies (either on-board or stand-alone), adjustable air or water cooling units, heating jackets, venting and purge gas accesso- ries (actively controlled, passive) as well as installation and mounting kits which readily assist commissioning.