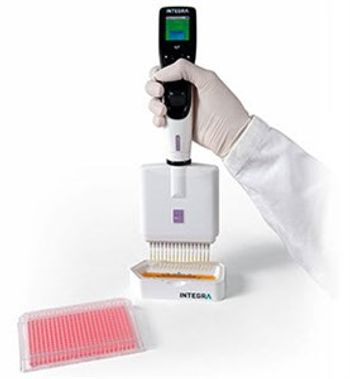 The new VIAFLO II multichannel electronic pipette range from INTEGRA combines ultra lightweight design and unsurpassed operation comfort enabling users to improve efficiency in their working environment.

VIAFLO II electronic pipettes together with INTEGRA's wide range of GripTip pipette tips form the perfect pipetting system. GripTips snap into place with minimal tip loading effort, providing a secure connection. GripTips never fall off and are always perfectly aligned, resulting in superior accuracy and precision results.

The integral color screen together with the easy to navigate touch wheel user interface promote ease of set up and operation. All VIAFLO II pipettes offer a choice of up to 10 predefined pipetting modes (including repeat dispense, serial dilute and manual pipette) enabling users to quickly perform typical pipetting operations. For more demanding pipetting routines, up to 20 personalized custom programs can be created using the following steps: aspirate, dispense, mix, purge and prompt.

The ergonomic design of VIAFLO II electronic pipettes facilitates hours of tireless pipetting. With just one light press of the Run button a VIAFLO II electronic pipette can perform many procedures eliminating the time-consuming repetitive plunger motion required of manual pipettes.

Available in 8-, 12- and 16-channel versions, VIAFLO II electronic pipettes offer an optimized precision pipetting solution from 0.5 - 1250 microlitres.

For laboratories looking for further gains in productivity - VIAFLO II electronic pipettes are compatible with the INTEGRA VIAFLO Assist enabling easy and affordable automation of these handheld devices.