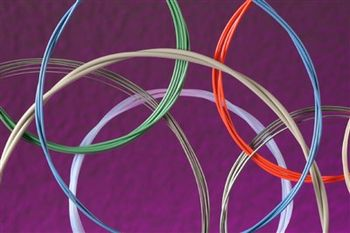 VICI Valco's new nickel-clad tubing is available with fused silica (FS) tubing, PEEK® tubing, and polyimide-coated fused silica tubing. These selections make the nickel-clad tubing ideal for HPLC and UHPLC use.

The fused silica tubing has a thick nickel coating applied to achieve a higher pressure rating. A thin nickel coating may also be used for resistive heating for fused silica tubing. The nickel also performs as a temperature sensor. The result is the lowest thermal mass FS column currently available. Nickel clad FS also allows the use of metal ferrules for improved leak-tight connections.

The nickel-clad FS tubing permits resistive heating of columns and transfer lines. It offers superior heat transfer to FS over wire-heating methods. The clad PEEK tubing allows direct connections using metal ferrules to produce enhanced pressure performance.

Nickel-clad PEEK tubing comes in 1/32" OD (IDs of .002 to .015) and 1/16" OD (IDs of .002, to .040) permitting use of PEEK?tubing up to 40,000 psi.

The nickel-clad polyimide-coated fused silica tubing is available in 1/32"?OD and IDs from 10µm to 250µm. A thin-wall, low mass version optimized for resistive heat applications is also available. The nickel can be plated either directly over the fused silica polyimide layer or the bare silica for temperature applications above 400°C.

The nickel-clad fused silica tubing with 1/32" OD is available in IDs from 10µm to 0.10". This tubing has the best qualities of silica-lined stainless but with improved heat transfer and a shorter bend radius.