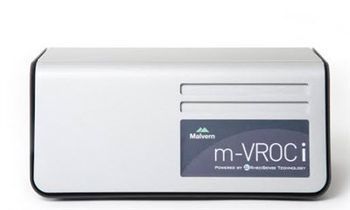 Malvern Instruments Ltd (Malvern, UK) has announced an exclusive global distribution agreement with RheoSense, Inc. (San Ramon, CA, USA) to promote, market, sell and support the VROC product range into industrial applications. The agreement enables Malvern to add the m-VROCi, microfluidic Viscometer/Rheometer On a Chip, to its existing portfolio of rotational and capillary rheometers, extending the company's offering to industrial customers across the globe. Delivering accurate, robust, fully enclosed viscosity measurement, at high shear rates, the m-VROCi addresses an established need to measure low viscosity fluids under process relevant conditions. The results have proven application for the characterization and enhancement of inkjet inks, coatings, rechargeable batteries, lubricants, chemical and food additives, and drink formulations.

"We are delighted to be working with RheoSense, Inc to bring the benefits of the m-VROCi to industrial customers across the globe," said Steve Carrington, Product Manager for Malvern Instruments. "The m-VROCi is highly complementary to the existing Malvern rheological portfolio, extending robust, fully enclosed (no solvent loss) flow curve measurement into areas that simply aren't accessible with alternative rheological instrumentation."

Dr. Seong-Gi Baek, president and CEO of RheoSense, Inc said, "Working with Malvern Instruments, a company known for its rheological application expertise and global support network, will help us to extend application of the VROC technology. The unique features of the m-VROCi efficiently meet an established need in many industries for high shear rate viscometry. With Malvern's support, industrial customers will now be able access the rheological data required to advance product and process performance in a highly effective way."

The m-VROCi is a hybrid microfluidic and MEMS (micro-electro-mechanical-system) sensor-based instrument. It determines viscosity by controlling sample volume flow rate and measuring changes in pressure as the sample passes along a microfluidic scale flow channel with embedded MEMS pressure sensors. Control software allows the quick and easy production of flow-curves, plots of viscosity as a function of shear rate, for sensitive and detailed rheological analysis.

An unparalleled dynamic shear rate range of 1s-1 to >106s-1 enables the fast and accurate measurement of low viscosity fluids under the high shear rate conditions that prevail in many processes, but cannot be accessed using traditional viscometry/rheometry instrumentation. Other benefits include fully enclosed measurement, which eliminates the risk of solvent loss, and the ease of sample loading using a syringe, which allows for operation with relatively small sample volumes.