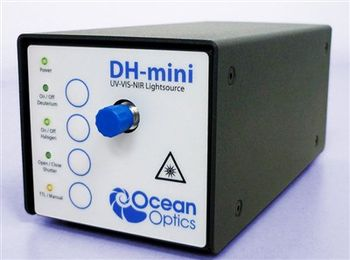 Now available from Ocean Optics is the DH-mini light source. This compact, high-intensity source for spectroscopy combines deuterium and tungsten halogen sources in a single optical path, producing stable output across the UV-VIS-NIR from 200-2500 nm. The versatility of the DH-mini is ideal for demanding applications in the quality control and life science industries, especially fiber probe-based measurements where light throughput is a challenge, and absorbance measurements of high optical density solutions.

As one of the pioneers of combination UV-VIS-NIR sources for spectroscopy, Ocean Optics has refined the new DH-mini, making it significantly more powerful, stable and compact than previous generations of comparable light sources. The DH-mini has nearly 3.5x greater output than earlier combination deuterium-tungsten halogen sources, expanding its usefulness to include absorbance measurements over a wide wavelength range and facilitating the measurement of multiple different samples with a single light source.

In addition to producing high-intensity output, the DH-mini operates with great stability (0.2% peak to peak) and minimal drift (0.1%/hour after stabilization). This mitigates the need to disturb experiments for frequent reference-taking and helps to ensure that results are reliable. Galvanically isolated electronics help to eliminate electronic cross-talk that can interfere with operation.

The DH-mini's small footprint – 75 mm x 82 mm x 175 mm (3.0" x 3.25" x 6.875") and 0.5 kg (1.1 lb.) -- helps to free up laboratory bench space and makes it easily adaptable for OEM devices. The DH-mini has great operational flexibility, allowing users to optimize configurations without having to switch among multiple sources or change sampling accessories. For example, each source bulb can be operated independently, with variable voltage controls for adjusting deuterium and tungsten halogen intensity. The built-in shutter allows users to make reference and dark measurements without disturbing the stability and thermal equilibrium of the lamp, a problem when a source is turned off or on. This saves time and increases the accuracy and precision of the measurement.

Users can operate the DH-mini bulbs and shutter manually via controls on the front panel or remotely via 15-pin TTL connection. Remote control via TTL connection simplifies integration and operation of the light source a when external triggering and other functions are required.

The DH-mini complements Ocean Optics' range of modular spectroscopy solutions for a wide range of applications. By configuring the DH-mini with a wide-range spectrometer and appropriate accessories, users can create a multifunction spectroscopy system for UV, VIS or NIR measurements or for measurements where broad-range response is necessary.