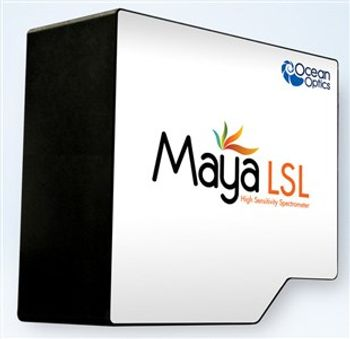 Now available from Ocean Optics is the Maya LSL spectrometer, a combination of a back-thinned CCD array detector and low stray light optical design resulting in high-sensitivity, high-throughput performance for applications ranging from chemical catalysis to Raman analysis. With rapid response and excellent accuracy, the Maya LSL is ideal for demanding applications in the life sciences and process monitoring industries, especially for production applications where speed and precision can save time, improve efficiency and reduce costs.

In production applications such as color measurements for quality control, Maya LSL's combination of speed, sensitivity and throughput help to reduce measurement errors and ensure accuracy. LED sorting, plasma monitoring and quality control all benefit from the superior color accuracy of the Maya LSL. Maya LSL's capacity to make measurements in milliseconds is particularly useful for demanding production environments.

The Maya LSL takes advantage of two modular spectroscopy technologies. First, Maya LSL's f/3 optical design includes a toroidal grating that corrects optical aberrations and dramatically improves stray light performance, extending the spectrometer's measurement range up to 3.0 absorption units – a 30 percent advantage compared with competitive designs. With very low stray light performance of 0.015 percent at 400 nm, Maya LSL offers great value to users making quantitative measurements, particularly in QA/QC and routine laboratory environments.

Second, the Maya LSL has a back-thinned CCD detector that increases the sensitivity of the spectrometer and allows for faster, full-spectrum measurements. This is a significant advantage for monitoring rapid chemical reactions such as catalysis, combustion and protein folding.

Users can operate the DH-mini bulbs and shutter manually via controls on the front panel or remotely via 15-pin TTL connection. Remote control via TTL connection simplifies integration and operation of the light source a when external triggering and other functions are required.

The Maya LSL optimizes the unavoidable trade-offs among measurement time, dynamic range and signal-to-noise considerations, for process monitoring measurements. High thermal stability and an array of triggering and data communication options make the Maya LSL ideal for the process environment. Applications such as fluorescence and Raman that routinely monitor very low light levels will benefit from the sensitivity of the Maya LSL.

The Maya LSL interfaces to a computer via its USB port and couples to Ocean Optics accessories for convenient experiment setups. The spectrometer is available with a variety of slits, filters and other optical bench accessories for optimizing configurations.