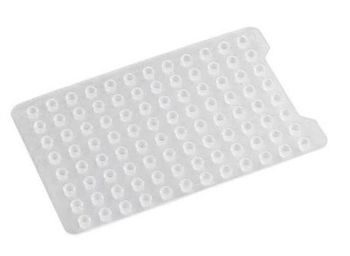 Porvair Sciences has introduced new silicone cap mats for its range of 2ml deep well storage blocks. Incorporating a novel double O-ring feature - the new silicone cap mats ensure a tight liquid proof seal every time. Such is the quality of the seal that capped storage blocks can be shaken, inverted or frozen without any loss of stored sample integrity.

Manufactured under class 10,000 clean room conditions from high grade silicone, which is resistant to most solvents, the new cap mats contain no contaminants that may leach out and affect stored sample. The new cap mats come with a specially weakened area in a shape of a cross on each of the 96 cap / well sections. For automated sample storage applications where piercing and reassessing is required the silicone cap mats allow easy, reproducible access while maintaining a high integrity seal on individual plate wells.

Silicone double O-ring cap mats are available for Porvair Sciences complete range of round and square well 2ml storage blocks. All Porvair 96-well storage blocks are precisely made to ANSI / SLAS dimensions ensuring complete compatibility with almost all readers, washers and automated equipment.